Brazil Green Yerba Mate Tea
A delicious, earthy tea that can really pack a punch. If you're looking for an energizing tea you can sip all day then yerba mate is a great choice.
All About Brazil Green Yerba Mate Tea
Feeling tired? Quitting coffee? Looking to mix it up with the massively popular tea that's secretly not actually a tea? 
From sun-up to sun-down in Argentina, Paraguay, Uruguay, and all around South America, locals drink Yerba Mate. A local plant that's dried and ground up into this slightly bitter energy filled tisane you see before you.  
It packs an energetic punch, but it doesn't give you the same peak and crash as traditional caffeine. You can steep it and drink it just like normal tea, or get fancy and get a traditional gourd and bombilla to sip it like a South American local.
Whether you're looking for a tea you can take out to the park with your friends for a relaxing afternoon, or a delicious, healthy replacement to your morning coffee, this green yerba mate from Brazil has you covered.
Health Benefits
Energy: Yerba mate has almost as much caffeine as a cup of coffee, as well as theobromine to help prevent the jitters or crash you get from coffee.

Weight Loss: Yerba mate has been shown to help accelerate fat loss from exercise, as well as lose weight over the long term when consumed daily.

Anti-Fungal: Yerba mate can combat E. Coli bacteria that cause food poisoning, as well as other fungi that cause rashes, dandruff, and dry skin.

Cholesterol: Yerba mate has been shown to help with lowering LDL cholesterol (the bad one).

Blood Pressure: Theobromine, one of the compounds found in yerba mate, has been shown to help with lowering blood pressure.

Blood Sugar: The polyphenols in yerba mate can help regulate blood sugar, which may help prevent or manage diabetes.

Cancer Prevention: It's also possible that yerba mate has a preventative effect on cancer, thanks to certain compounds in it like chlorogenic acid, tannins, and saponins.
More Info
Origin: Parana, Brazil, home of the majestic (and very loud) Iguaçu Falls.
Caffeine Level: High, take it easy with this one!
Brewing Hot: Use 1 tsp per 8oz of boiling water, and let steep for 5-10 minutes. If it tastes bitter, you went too long!
Brewing Cold: Make it the hot way, then put it in the fridge overnight. Yerba Mate doesn't steep well cold.
Mix With: Lemon, orange, honey, sugar, mint, or a trip to Argentina.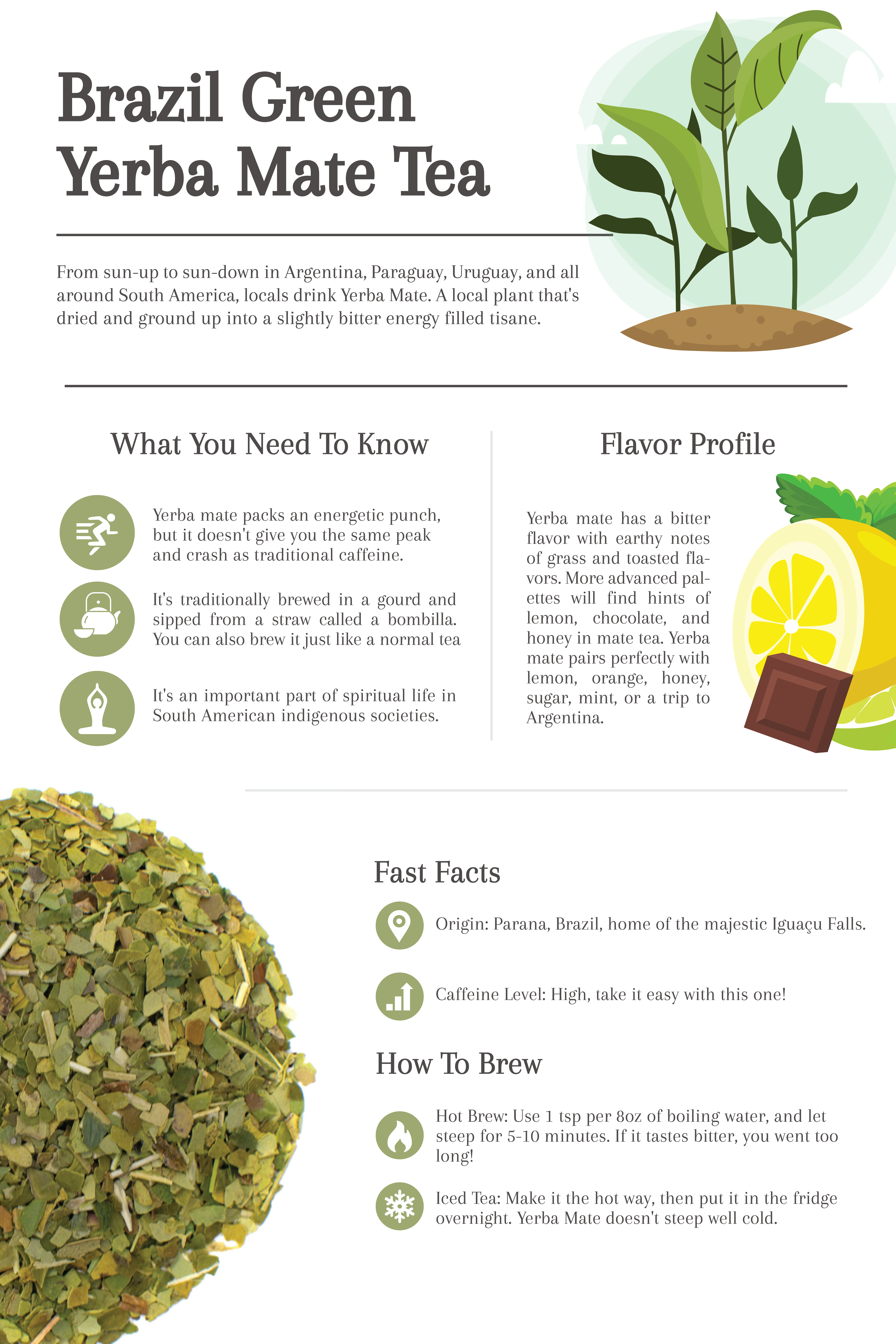 I love this tea!
This tea is light and refreshing! Tastes great cold brewed with mint. Also gives me a nice little energy boost.
Super Energizing Tea
I always drink green tea in the morning to boost my energy (so much better than coffee!) This tea tased great and gave me enough energy at work, even all through the afternoon.
This is a great product that I'll be purchasing again soon!
Great Aroma!
This was amazing! Pleasant aroma, delicious and most importantly very useful. I recommend for all tea lovers!