Butter Tea Blend (Green, Mate, Pu-erh)
Tea with butter? Yes please! This blend is optimized for giving you a tasty tea blend that mixes nicely with butter or MCT oil for an energizing kick that will unleash your creative energy.
All About Butter Tea Blend (Green, Mate, Pu-erh)
This blend was inspired by Tim Ferriss, who says he's replaced his morning coffee with a mix of green, pu-erh, and mate teas. 
We took three of our favorite teas: our Organic Sencha Fuji, our Brazilian Green Yerba Mate, and our Young Pu-erh, and blended them together into one easy-to-steep mix that is sure to pick you up in the morning. 
Try it on its own, or mixed with grass-fed butter, MCT oil, MCT oil powder, heavy cream, or any other fat, to really bring out the rich flavor and give you a smoother, longer lasting energy boost!
Health Benefits
With these three different teas there are a ton of health benefits to take advantage of. Here are a few of the highlights:
Energy: Yerba mate has almost as much caffeine as a cup of coffee, as well as theobromine to help prevent the jitters or crash you get from coffee.
Weight Loss: Yerba mate, pu-erh tea, and green tea have all been shown to help accelerate weight loss when consumed daily.
Blood Pressure: Theobromine, one of the compounds found in yerba mate, has been shown to help with lowering blood pressure.
Cancer Prevention: Research has shown that drinking at least three cups of green tea per day is effective in delaying processes that lead to mutations and changes in cells which cause them to be cancerous.
Diabetes Prevention: In a study performed in Japan, people who consumed six or more cups of green tea per day saw a stunning 33 percent risk reduction of developing Type 2 diabetes.
Bone Health: Animal studies suggest that the polyphenols in pu-erh and green tea can help to develop higher bone mass and greater bone strength.
Stress Reduction: Pu-erh tea has the phyto-chemicals GABA and theanine, which have been shown to help lower stress levels.

More Info
Origin: Brazil, Jiangxi China, and Yunnan China
Caffeine Level: High! Perfect for replacing your coffee.
Brewing Hot: Use 1 tsp per 8oz of boiling water, and let steep for 3-7 minutes.
Brewing Cold: Steep 6 teaspoons in a quart of boiling water, then add 3 quarts cold water and refrigerate.
Mix With: Butter, MCT Oil, Lemon, Getting Stuff Done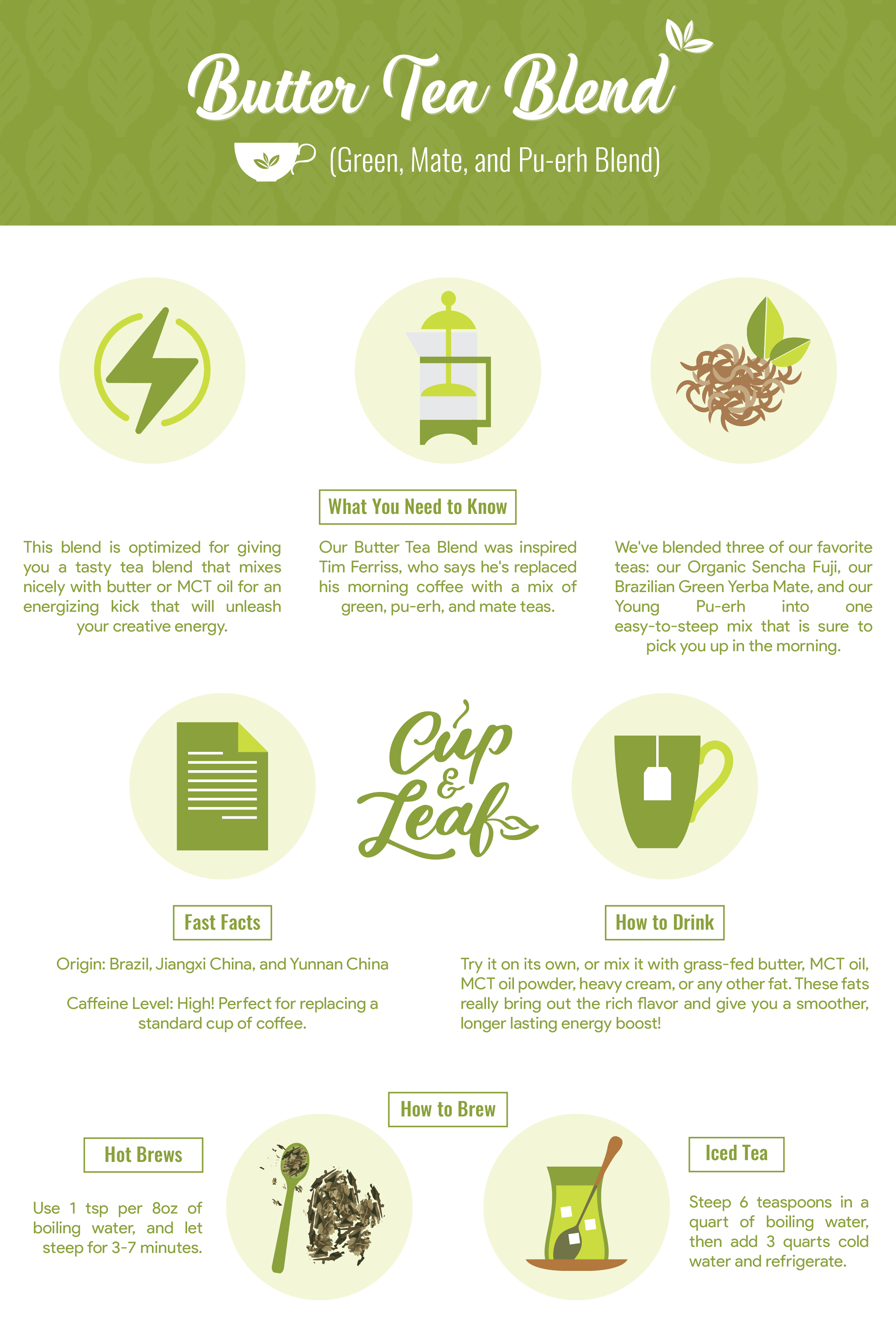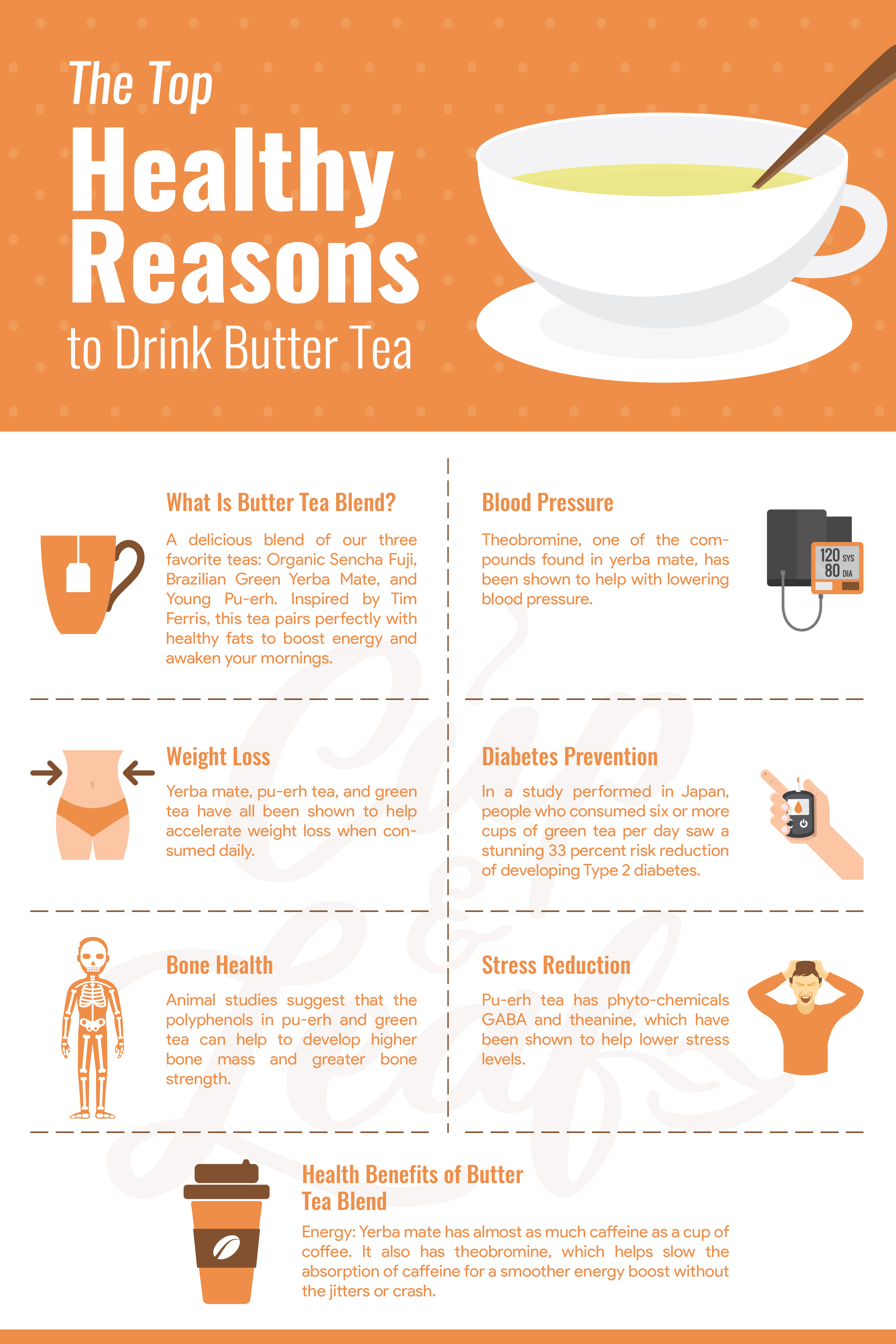 butter tea
it has a nice flavor however next time I would like to try a different flavor
Great tea
I bought this tea for something natural while prepping for my bikini competition and I love it
5 stars
I really like the butter tea blend. I am trying to cut back on coffee, but didn't want to give up the energy it gave me. This tea is a wonderful replacement, and gives me the boost I need. Plus, it tastes great!
taste different but taste good
This stuff is good. I'm glad I tried it. Will order again.
Butter Tea Blend
Very tasty. Really enjoy it.