Organic Earl Grey Cream Tea
A delicious twist on the classic earl grey tea, this blend combines bergamot rich organic earl grey tea with dried vanilla for a smooth, creamy taste you can enjoy throughout the day.
All About Organic Earl Grey Cream Tea
A delicious twist on the classic earl grey. This tea starts off as any earl grey: by taking high grown premium black tea leaves and mixing them with oil of bergamot to create the uniquely aromatic flavor that makes this tea so memorable. 
Then it's combined with organic vanilla to bring out the delicious crisp notes while smoothing out the sometimes bitter bergamot flavor, to create a uniquely flavorful combination that you won't be able to put down. 
Health Benefits
Stress and Anxiety: According to the University College London professor Andrew Steptoe, "Drinking black tea may speed up our recovery from daily stresses in life."
Cancer Prevention: Scientists believe that antioxidants, like the polyphenols, catechins and theaflavins in black tea, can be a strong force in preventing and perhaps reducing the development and spread of cancer.
Diarrhea: Diarrhea can be reduced by the high amounts of tannins in black tea.
Diabetes: Lab rat experiments show that black tea is beneficial in both lowering blood sugar levels and reducing diabetic cataracts.
Headaches: If you're suffering from a tension headache, the antioxidants in black tea can help relieve it faster than standard painkillers.
Weight Loss: Mice fed a black tea supplement while on a high sugar diet had less weight gain and a greater metabolism than their non-tea-drinking peers.
Oral Health: According to the American Society for Microbiology: "compounds in black tea may attack the harmful bacteria in your mouth that cause gum disease and cavities."
More Info
Origin: Sri Lanka, from the Nuwara Eliya, Dimbula, and Uva regions.
Caffeine Level: Medium
Brewing Hot: Use 1 tsp per 8oz of boiling water, and let steep for 3-7 minutes.
Brewing Cold: Steep 6 teaspoons in a quart of boiling water, then add 3 quarts cold water and refrigerate.
Mix With: Lemon, milk, and a chilly morning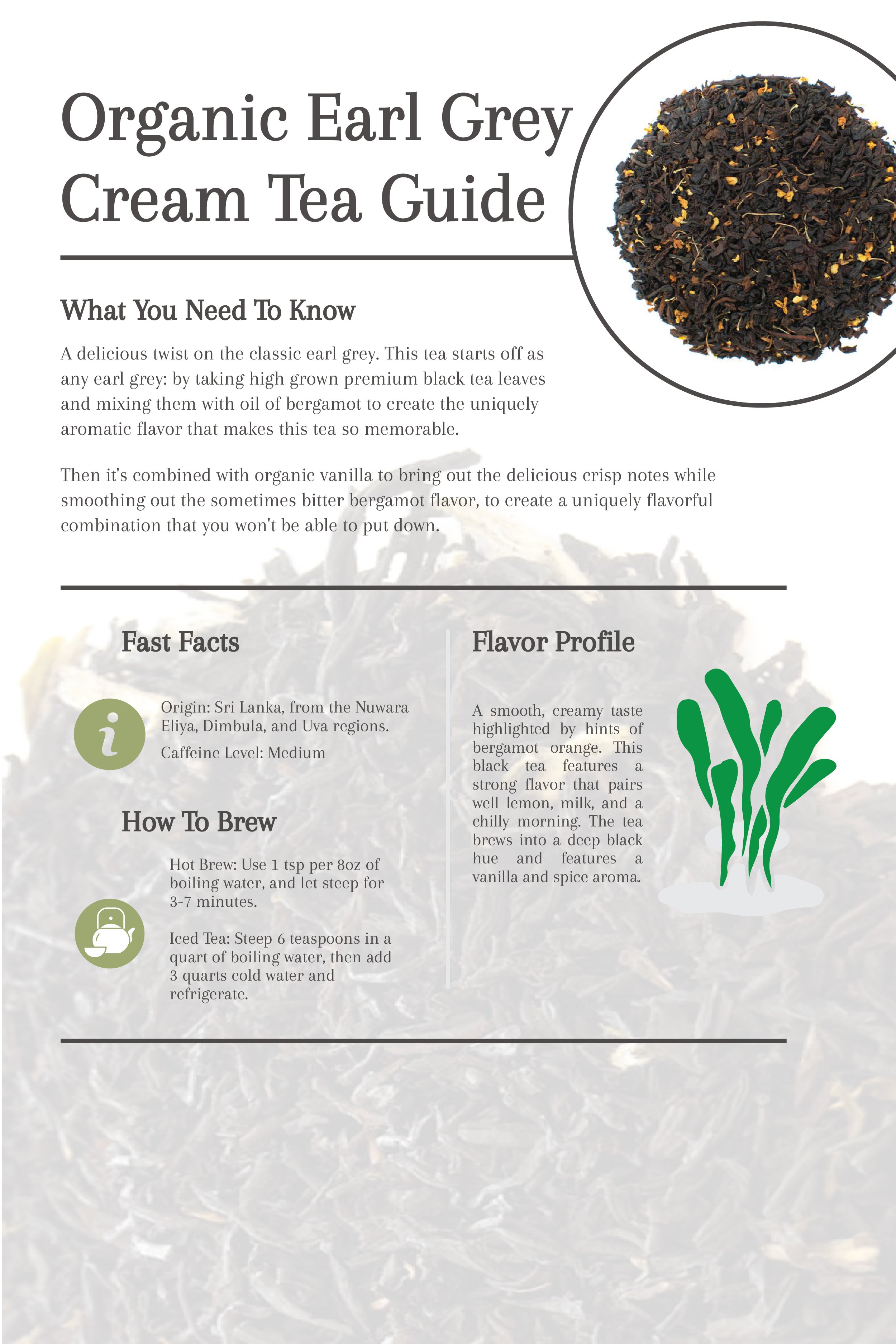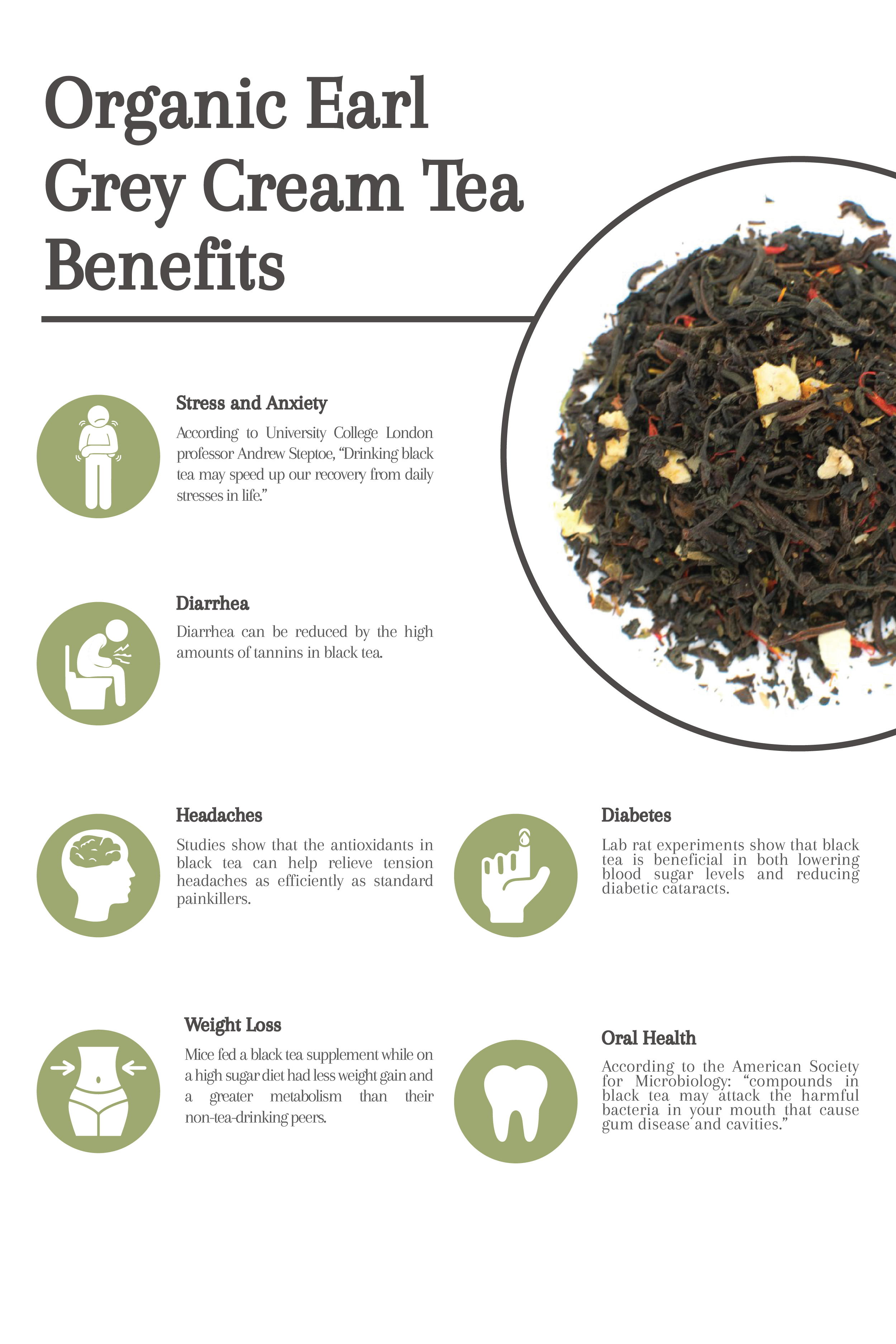 Great tea!
The Early Grey cream is really good. Will absolutely buy again.
Awesome
A great black tea with a creamy note and a nice twist on a typical earl grey
This tea is delicious!
I'm new to the world of tea, and am absolutely in LOVE with this one! My favorite!
Happy!
Recently came back to drinking tea. Love the Earl Grey Cream. Has plenty of flavor that includes a subtle finish. Jasmine is wonderful. Full of flavor. The India Chai is good. I would like spices to be a little stronger, but it would not take too much to make tastebuds happier. The finish is where you can taste it best.
Best Earl Grey I've had in a while
I spent a while looking for a "cream" Earl Grey that didn't taste artificial, and this is it. Nice aroma, pleasant taste, and no gimmicky flavorings. This tea is now a staple at my house.