What could improve on the delicious taste of fresh green tea? How about a kick of ginger! This blend mixes premium dried ginger from Thailand with our favorite green tea to give you a unique, and spicy, twist on the classic green tea taste you're familiar with.
All About Ginger Infused Green Tea
How do you take one of the world's finest green teas and make it better? By adding ginger!
Our ginger infused green tea blend takes premium Japanese Sencha green tea and mixes it with rich, spicy ginger for a flavor quite unlike any other. And by combining these two delicious plants together, you can reap their many health benefits in one delicious brew. 
Health Benefits
This blend gets benefits from both the green tea and the ginger.
Green Tea Benefits:
Cancer Prevention: Research has shown that drinking at least three cups of green tea is effective in delaying processes that lead to mutations and changes in cells which cause them to be cancerous.
Bone Health: Animal studies have suggested that green tea can encourage the formation of new bones, and in those animal studies, the bones showed greater mass, volume and thickness.
Weight Loss: Researchers have found that green tea can help contribute to fat loss by increasing the body's metabolism.
Heart Health: Studies have found that people who regularly consumed at least one cup of green tea a day died at far lower rates from cardiovascular disease than those who consumed less than one cup a day.
Better Vision: Catechins in green tea could help protect you against glaucoma and other eye diseases.
Better Memory: In animal studies, green tea consumption by mice significantly slowed memory loss. Other studies have also demonstrated that green tea was able to improve spatial cognition and learning ability when consumed regularly.
Diabetes Prevention: In a study performed in Japan, people who consumed six or more cups of green tea saw a stunning 33 percent risk reduction of developing Type 2 diabetes.

Ginger Benefits:
Combat Nausea: Ginger has been used for centuries as a cure for nausea and vomiting caused by morning sickness and motion sickness.
Boost Your Immune System: Ginger contains the biological compounds gingerol and shogaol that fight to eliminate free radicals and toxins that can cause you to get sick in the first place.
Respiratory Health: Allergic rhinitis is simply an overreaction of the immune system to common stimuli. Ginger works to prevent the immune system response that cause wheezing, itchy and watery eyes and sneezing.
Better Circulation: Ginger is a vasodilator that opens blood vessels and allows blood to flow through more easily.
Reduce Inflammation: Ginger tea has anti-inflammatory properties that may help to ease muscle pain and joint pain associated with arthritis, menstrual cramps and osteoarthritis.

Reduce Blood Sugar: Subjects who were given 1 gram of ginger powder three times daily showed decreases in blood sugar levels after eight weeks.
Cholesterol Reduction: Drinking ginger tea can help to lower dangerous triglycerides and LDL cholesterol.
More Info
Origin: The Hunan Province of China
Caffeine Level: Low, from the Green Tea.
Brewing Hot: Use 1 tsp per 8oz of boiling water, and let steep for 3-7 minutes.
Brewing Cold: Steep 6 teaspoons in a quart of boiling water, then add 3 quarts cold water and refrigerate.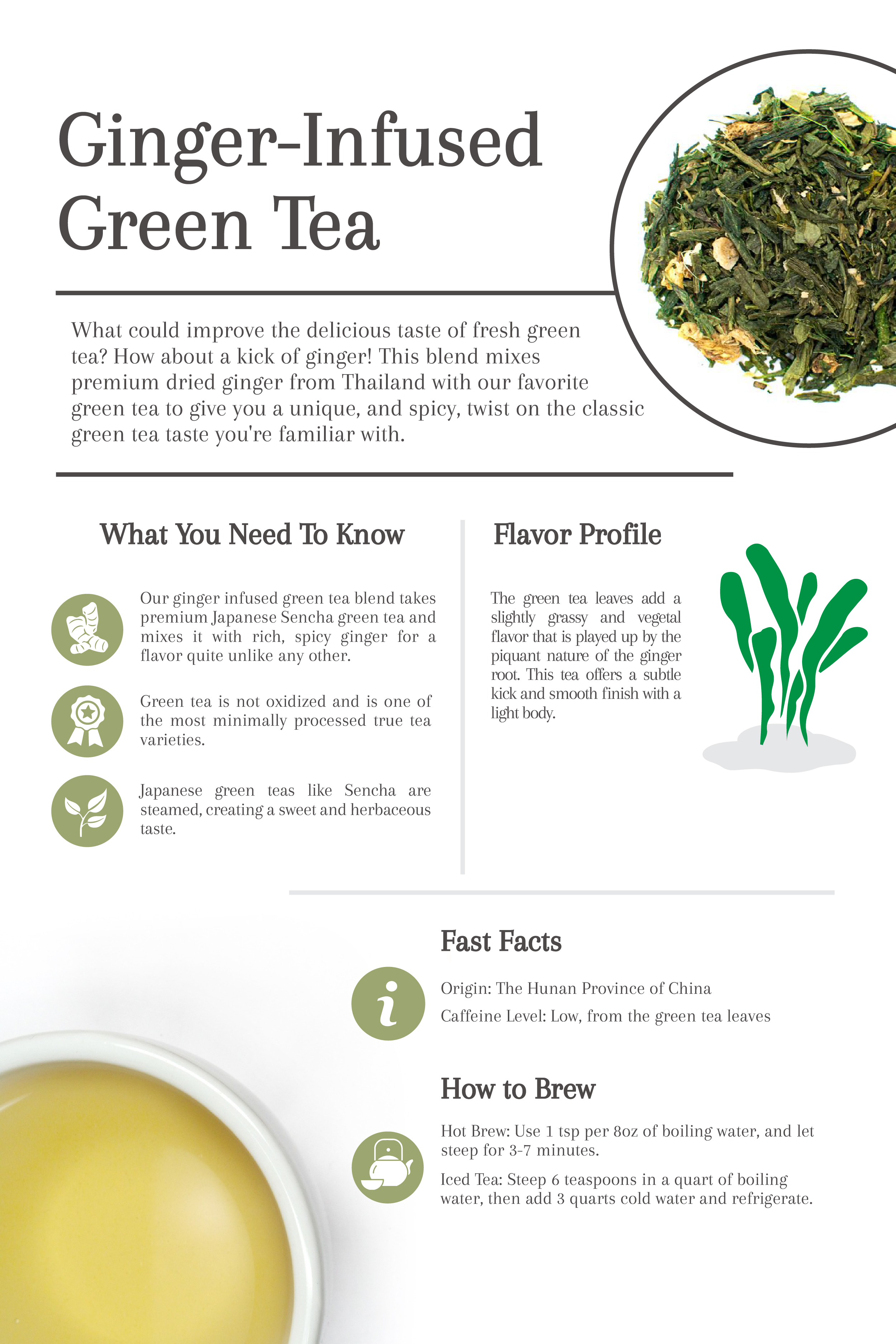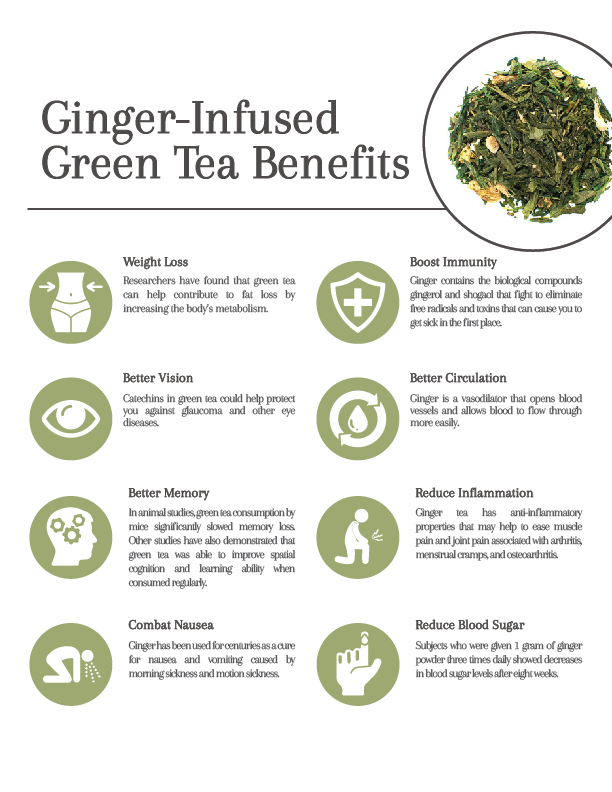 Ginger infused green tea
Flavor could be a bit more bold, but good stuff!
Excellent
Really love the green tea infused with ginger,have tried a bunch of different brands LIKE THIS ONE MOST!!
New Loose Tea Lover
Am enjoying the teas delivered by cup and leaf. This is my first experience with loose tea and I don't see how it canget better. Oh yeah, more varities to try.
Great premium green tea and the chunks of ginger add a slight spice to the classic flavors. One of my new favorite teas when I feel like I'm getting sick.