Also known as "red tea," rooibos is one of the most popular herbal teas in the world, packed with numerous health benefits you can't get in normal tea.
All About Organic Rooibos Tea
This ancient South African tea, sometimes called "Red Tea," is a cultural delicacy loved around the world since it was first imported in the late 1700s.
Our Organic Roobis comes straight from Cederberg outside, a small mountainous area where it's been harvested for hundreds of years. 
Rooibos contains many essential nutrients like Iron, Potassium, Calcium, Zinc, and has long been regarded for its healing properties. Brew yourself a cup, and see why it's been an African delight for generations. 
Health Benefits
Diabetes Prevention: A 2013 Tokyo study showed that polyphenols in rooibos tea work to regulate blood sugar levels and increase glucose tolerance in diabetic mice.
Heart Health: The relaxing effects of rooibos tea help to open up blood vessels while antioxidants work to lower bad cholesterol and prevent plaque buildup.

Improves Skin: Rooibos tea contains alpha hydroxy acid, which can help reduce wrinkles and aid in your overall skin health.
Pain Relief: Rooibos tea contains antioxidants with anti-inflammatory properties that help to reduce inflammation and general aches and pains.
Improve Allergies: Working as a bronchodilator, rooibos tea can help relieve the feelings of wheezing and coughing that are caused by allergic rhinitis and asthma.
Bone Health: Like the true teas and many herbal tisanes, rooibos tea contains minerals such as calcium, manganese and fluoride that help build strong bones.
Improved Digestion: Rooibos tea contains several nutrients that are anti-spasmodic, which help to prevent stomach pains.
More Info
Origin: The Mountainous Region of Cederberg South Africa
Caffeine Level: None, it's an herbal tea!
Brewing Hot: Use 1 tsp per 8oz of boiling water, and let steep for 3-7 minutes.
Brewing Cold: Steep 6 teaspoons in a quart of boiling water, then add 3 quarts cold water and refrigerate.
Mix With: Mixes well with milk, sugar, lemon, and mint.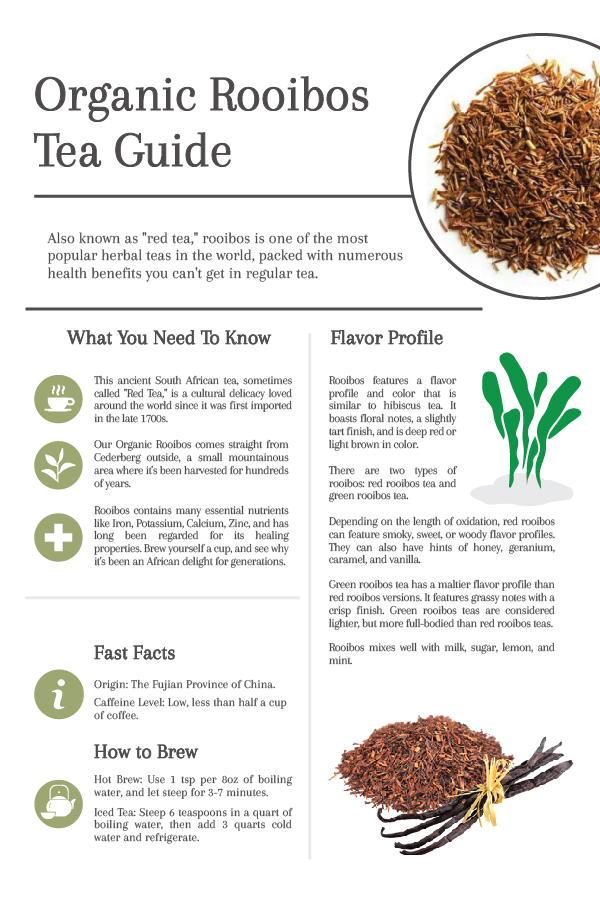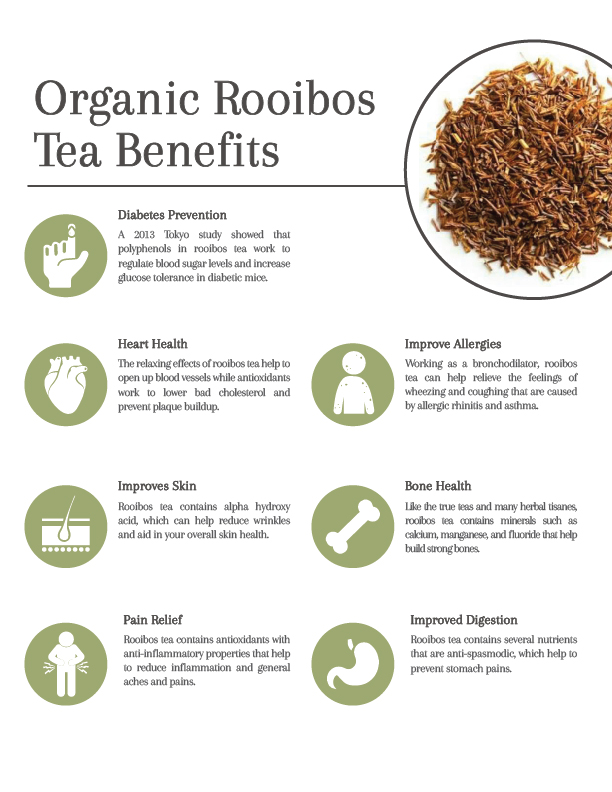 Nice loose tea packed well.
I just didn't feel any health benefits, improve skin, or anything it claims so far.
Great Tea
Best Rooibos Tea ever. Even my husband likes it and he was very sceptical. I'm so glad I found this tea company.