Good luck finding a tea more relaxing than this one. Enjoy the calming, soothing effects of chamomile mixed with the zesty taste of fresh lemongrass for an herbal tea unlike any other.
All About Chamomile Lemongrass Tea
The ancient Egyptians believed that Chamomile possessed shamanistic powers, and a Greek doctor Dioscorides prescribed Chamomile for gastrointestinal disorders and calm nerves. Modern-day beliefs maintain that Chamomile helps with digestion, insomnia, and many other diseases of modernity.
As for Lemongrass, traditional Eastern medicine believes it possesses the power to induce psychic abilities, such as reading minds or seeing the future. We're not sure about that, but it is known to help ease jet lag, indigestion, and headaches.
Together, this blend of Chamomile and Lemongrass produce a cup of tea with notes of honey, and subtle tones of citronella, lemon, and orange.
Sip it throughout your day, or right before bed to induce a feeling of calm serenity that people have enjoyed for thousands of years.
Health Benefits
Relieve Stress: Chamomile tea increases serotonin and melatonin in the body, two hormones that work to alleviate feelings of stress.
Better Sleep: Drinking Chamomile tea before bed can help you fall asleep faster, and sleep better.
Skin Health: Chamomile tea has anti-inflammatory and antioxidant properties that can relieve skin irritations such as eczema and rosacea.
Digestion: A study published in Phytomedicine demonstrated that a mix of chamomile flowers, peppermint leaves and licorice root helped to prevent the development of gastric ulcers.
Immune Strength: The aromatic scent of chamomile helps to clear congested sinuses, and the anti-bacterial properties work to defeat any unwanted bacteria and viruses that wreak havoc on your immune system.
Heart Health: Studies have shown that chamomile can help lower blood pressure and bad cholesterol known as LDL cholesterol.
Healthy Hair: Anti-inflammatory compounds in chamomile, when applied topically or drank, can alleviate itchy, dry scalp that can lead to dandruff.
More Info
Origin: These ingredients come from the Nile River Delta in Egypt, and Sing Buri Thailand.
Caffeine Level: None, it's an herbal!
Brewing Hot: Use 1 tsp per 8oz of boiling water, and let steep for 5-10 minutes.
Brewing Cold: Steep 10 teaspoons in a quart of boiling water, then add 3 quarts cold water and refrigerate.
Mix With: Fresh lemon peel to bring out the citrus notes.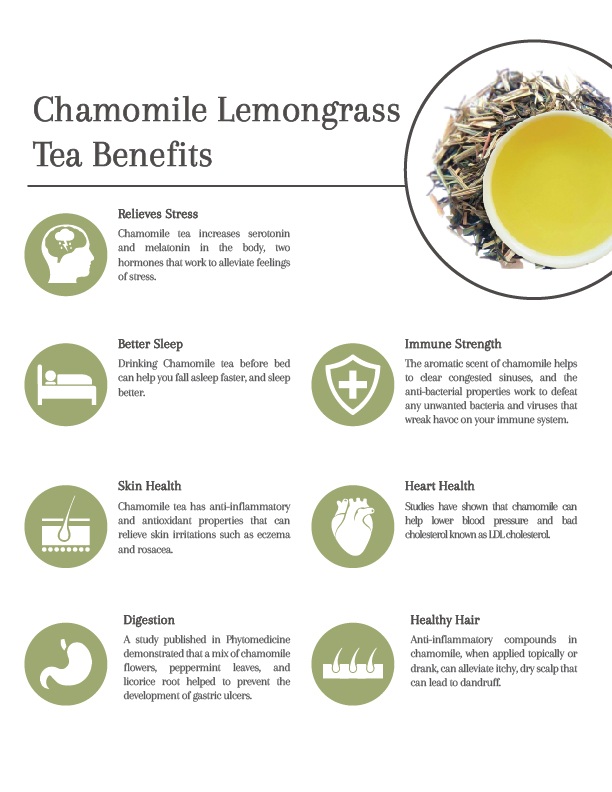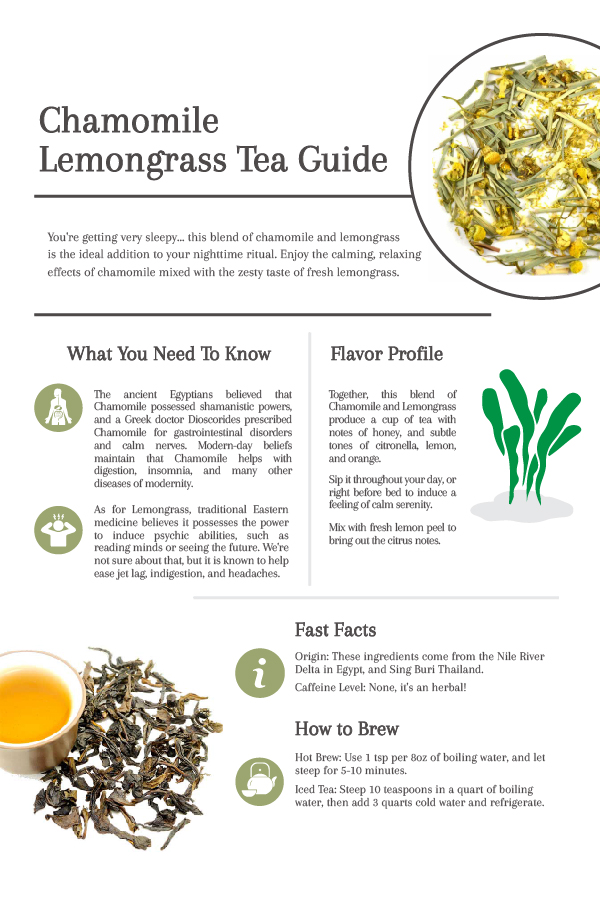 tea
I ordered the chamomile lemongrass tea and i would have liked to have more flavor from the lemongrass itself. I appreciated how fast you filled my order. other teas i ordered were exceptional.
Chamomile Lemongrass
Delicate but intricate blend of flavors. Great after dinner.
Excellent Product
We purchased four different teas from Cup and Leaf. All of them were fresh and fragrant. Currently we have tried two and my wife and I agreed that both of them were the best we have had of those varieties. We used a bit too much tea on our first tries but overall could not be happier and looking forward to trying some other Cup and Leaf teas. Deb and John
Light and Refreshing
We are enjoying the Lemongrass tea very much!
Just the right choice for evening as it is light yet very satisfying. Recommend!