French Vanilla Pu-erh Tea
If you love french vanilla coffee, then this may be your new favorite tea. Aged pu-erh is mixed with fresh vanilla giving this tea a uniquely smooth, sweet taste, while still getting all of the health benefits that pu-erh brings.
All About French Vanilla Pu-erh Tea
This is a blend of French Vanilla coffee, white chocolate, and butterscotch hailing from Yunnan Province in China.
This cup of tea offers earthy notes of Pu-erh tempered by the nuttiness of coffee, exotic vanilla, and sweet chocolate, for a deliciously unique pu-erh flavor you won't soon forget!
Health Benefits
Pu-erh has many notable health benefits, including:
Weight Loss: Pu-erh encourages your body to produce the epinephrine and norepinephrine, which both work to reduce stores of fatty acids.
Reduce Stress: Pu-erh tea contains GABA and theanine, which have been attributed to helping lower your stress levels.

Increased Energy: Pu-erh has more caffeine than most teas, with 60-70mg per cup (compared to 100mg in a cup of coffee). It's perfect for a morning or afternoon pick-me-up, especially if coffee makes you jittery.
Heart Health: A Chinese study showed that animals that drank pu-erh tea had lower cholesterol and triglyceride levels, which are often associated with obesity. At the same time, pu-erh tea increased the good HDL cholesterol which can reduce risk of heart disease.
Cleansing Toxins: Pu-erh tea contains simple sugars and microorganisms that help the spleen cleanse blood and eliminate free radicals.
Prevent Cancer: Studies have shown that consistent consumption of pu-erh tea can combat cancer and prevent the growth of new cancer cells.
Bone Health: Animal studies suggest that the polyphenols in pu-erh tea can help to develop higher bone mass and greater bone strength.
Prevent Illness: Since pu-erh tea is high in antioxidants and vitamin C, drinking a cup of this brew every day can help prevent illnesses such as the common cold and flu.

More Info
Origin: The Yunnan Province of China.
Caffeine Level: High, almost as much as a cup of coffee.
Brewing Hot: Use 1 tsp per 8oz of boiling water, and let steep for 3-7 minutes.
Brewing Cold: Steep 6 teaspoons in a quart of boiling water, then add 3 quarts cold water and refrigerate.
Mix With: Milk and sugar for a delicious, sweet, creamy flavor.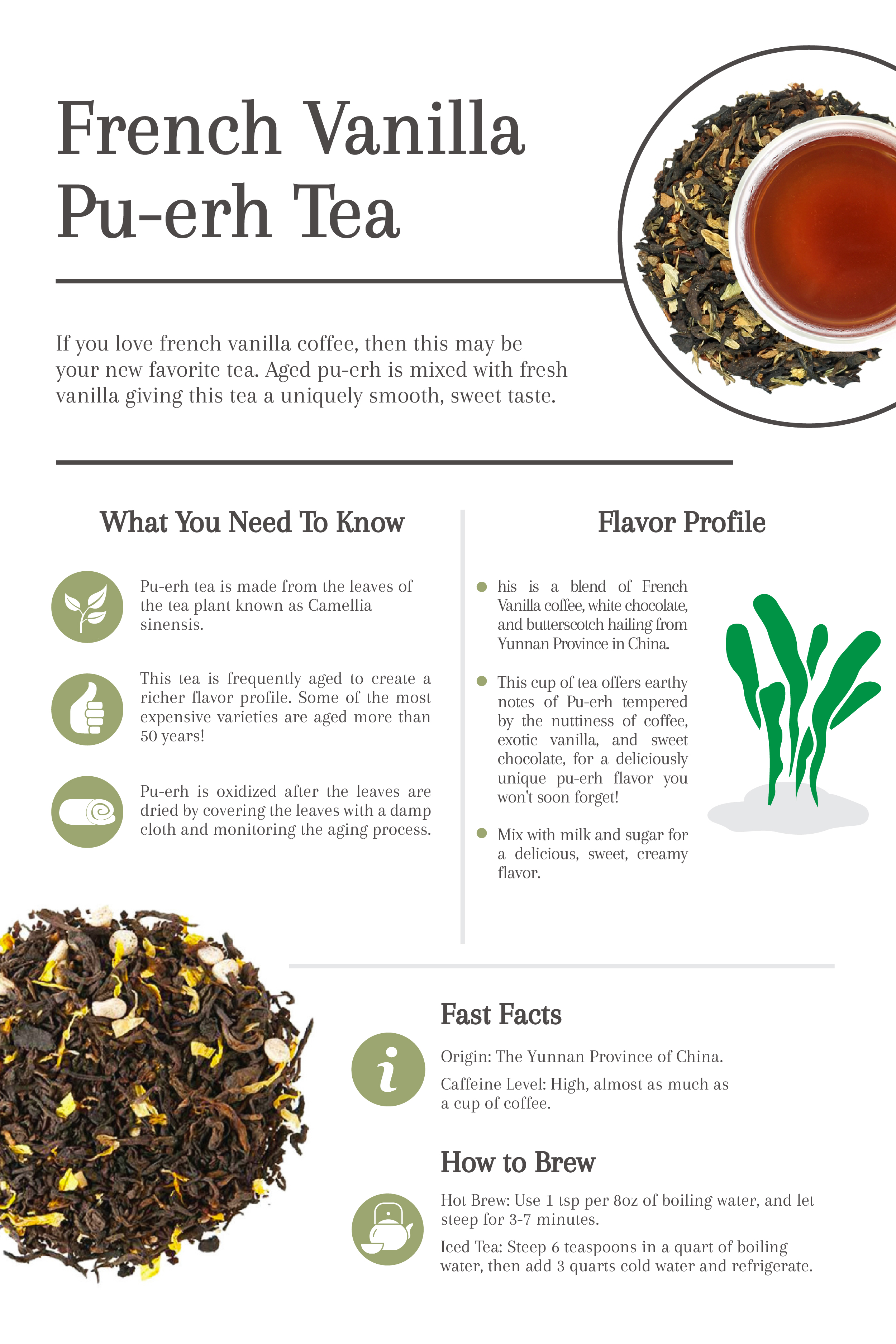 Smooth and Mellow Flavor
I've only made my French Vanilla Pu-erh as a large pitcher of iced thus far, but it has been great that way- quite refreshing! The vanilla flavor is really mild, and there is no bitterness. I might add a touch of unsweetened almond milk next time to enhance the natural flavors. I look forward to trying it hot as well.
Earthy, Smooth, and Just Sweet Enough
The soft earthy flavor and woodsy tones I love in a classic Pu-erh tea with a touch of sweetness. This combination of delicious tea and coffee flavors give you the best of both worlds. Good with vanilla plant milk or whole milk.