Organic Genmaicha Roasted Brown Rice Green Tea
Genmaicha is an ancient twist on green tea, created by adding roasted, popped brown rice. It has a distinctly crisp flavor you won't find in any other green tea blends, and quickly becomes many people's favorite.
All About Organic Genmaicha Roasted Brown Rice Green Tea
Genmaicha is a classic, delicious Japanese green tea mixed with brown rice. The roasted popped brown rice adds a fuller bodied flavor to the green tea, rounding out some of the bitterness that can come from steeping your green tea. 
Try it in the afternoons with lunch, or as a late-day substitute for your usual cup of coffee.
Health Benefits
Green tea has a ton of health benefits you'll love, including:
Cancer Prevention: Research has shown that drinking at least three cups of green tea is effective in delaying processes that lead to mutations and changes in cells which cause them to be cancerous.
Bone Health: Animal studies have suggested that green tea can encourage bone formation, and in those animal studies, the bones showed greater mass, volume and thickness.
Weight Loss: Researchers has shown that green tea can aid in weight loss by boosting your metabolism.
Heart Health: Studies have found that people who regularly consumed at least one cup of green tea a day died at far lower rates from cardiovascular disease than those who consumed less than one cup a day.
Better Vision: Catechins in green tea could help protect you against eye diseases such as glaucoma.
Better Memory: In animal studies, green tea consumption significantly slowed memory degradation. Other studies have also demonstrated that green tea was able to improve spatial cognition and learning ability when consumed regularly.
Diabetes Prevention: In a Japanese study, people who drank six or more cups of green tea regularly saw a 33 percent decrease in risk of developing Type 2 diabetes.

More Info
Origin: Zhejiang Province of China
Caffeine Level: Low, less than half a cup of coffee.
Brewing Hot: Use 1 tsp per 8oz of boiling water, and let steep for 3-7 minutes.
Brewing Cold: Steep 6 teaspoons in a quart of boiling water, then add 3 quarts cold water and refrigerate.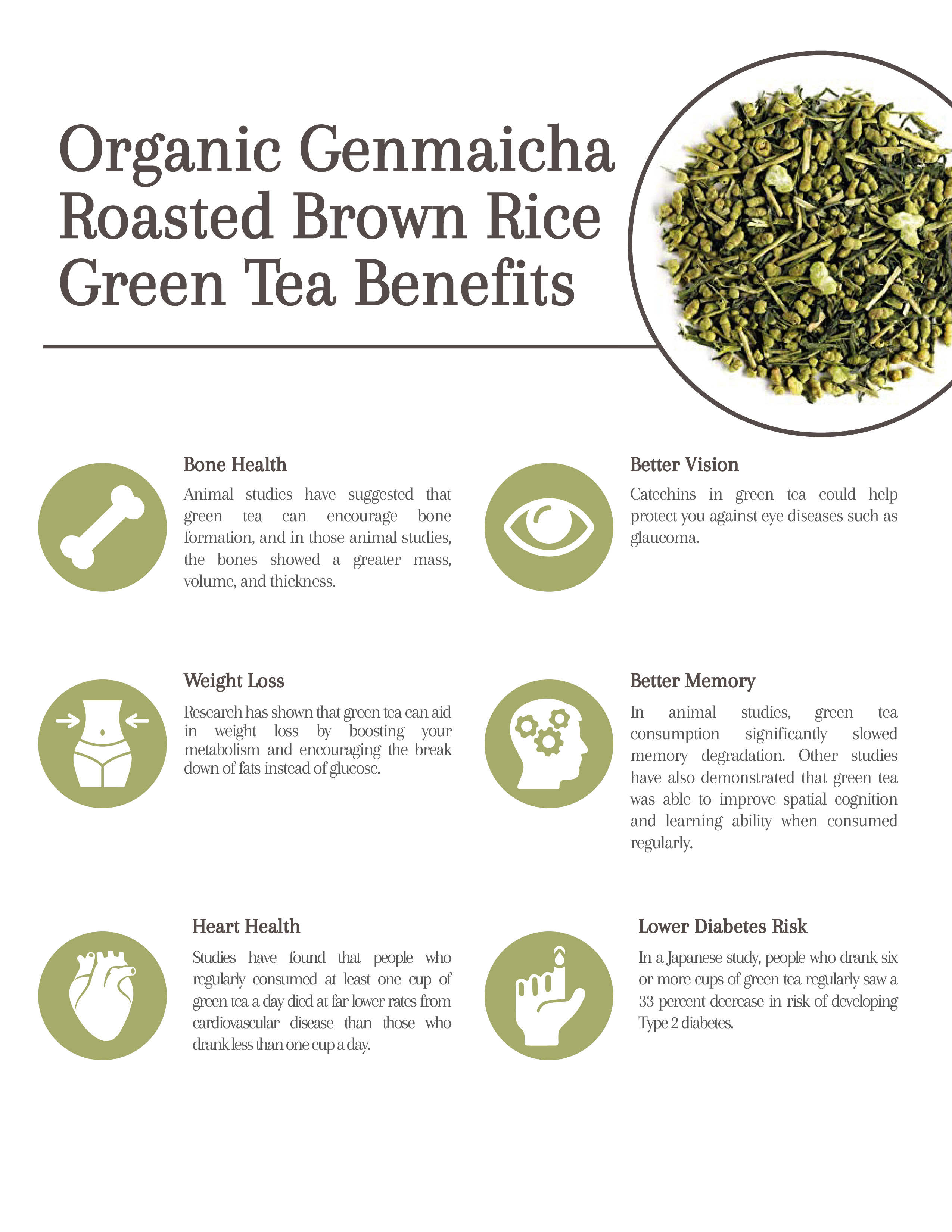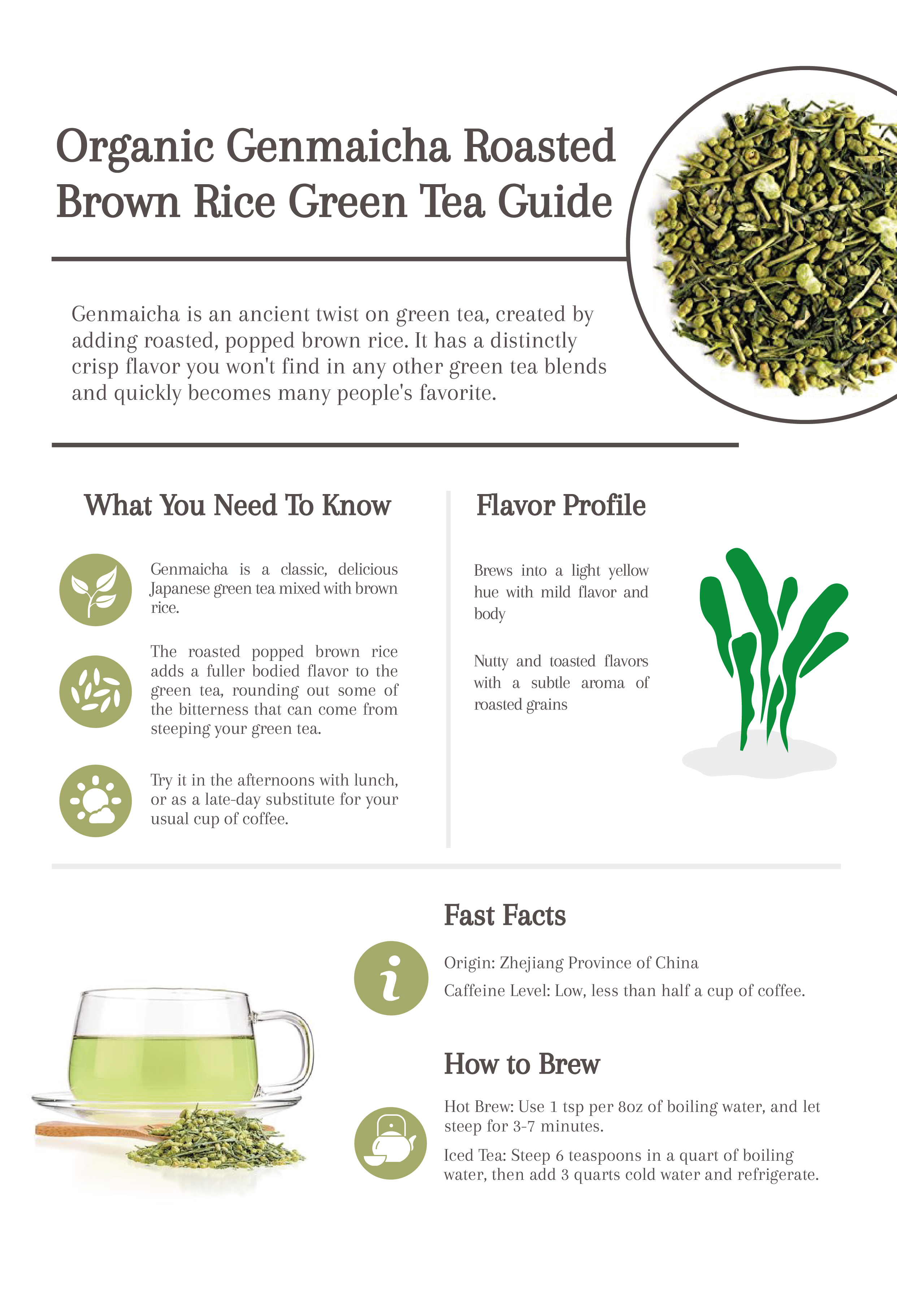 I would buy this tea again, so should you
My husband is a coffee drinker and wanted to try green tea. I ordered him a variety of teas but we both loved this one. Definitely ordering again!
Awesome tea.... great service
This was my first order from Cup & Leaf. The service and product are extraordinary. I recommend and I will be ordering again.
Great service
The website is easy to use and made me comfortable that I was buying only what I wanted. Excellent prices!!!
Super Fresh Leaves
This tea's toastiness and nuttiness are such great ways to start the day. The leaves look and smell super fresh, unlike some other brands that look dried out and straw-like. I'm very happy with my purchase and will be buying a larger size next time!
Just Like Japan!
I recently visited Japan and have been searching for the flavor tea that I loved so much. After trying a few variations of genmaicha, I finally found C&L's. It's warmth and nuttiness are super satisfying - can't wait to repurchase!