This blend brings together two of the most distinct flavors in tea: Rooibos, and Chai. They pair perfectly into this tea that gives you an energizing kick from the chai tea, and the many health benefits that come with rooibos.
All About Rooibos Masala Chai
Rooibos Masala Chai is an herbal tea that combines the mellow characters of Rooibos with the spiciness of Masala Chai. The leaves of the Rooibos bush produce a caffeine drink that is noted for its soothing character.
The Masala Chai has a base mixture of ginger, cardamom, cinnamon, coriander, clove, and black pepper. It is generally considered to be one of the more overtly spicy examples of all blends. As with all other chai teas, this tea can be paired with warm soy or whole milk.  
Health Benefits
Improves Skin: Rooibos tea contains alpha hydroxy acid, which can help to reduce wrinkles and aid in your general skin care routine.
Pain Relief: Rooibos tea contains antioxidants with anti-inflammatory properties that help to reduce inflammation and feelings of aches and pains.
Improve Allergies: Working as a bronchodilator, rooibos tea can help relieve the feelings of wheezing and coughing that are caused by allergic rhinitis and asthma.
Bone Health: Like the true teas and many herbal tisanes, rooibos tea contains minerals such as calcium, manganese and fluoride that help build strong bones.
Improved Digestion: Rooibos tea contains several nutrients that are anti-spasmodic, which help to prevent stomach pains.
Diabetes Prevention: Drinking rooibos tea may help to keep diabetes in check or to prevent the onset of diabetes. A 2013 Tokyo animal study showed that polyphenols in rooibos tea work to regulate blood sugar levels and increase glucose tolerance in diabetic mice.
Heart Health: Containing the chrysoeriol flavonoid that is a bronchodilator, this compound is also an effective agent for lowering high blood pressure and increasing circulation. The relaxing effects of rooibos tea help to open up blood vessels while antioxidants work to lower bad cholesterol and prevent plaque buildup.
More Info
Origin: Cederberg South Africa, and Kerala India.
Caffeine Level: None, it's an herbal tea!
Brewing Hot: Steep 1 teaspoon in 8oz of water for 5-10 minutes.
Brewing Cold: Steep 6 teaspoons in a quart of boiling water, then add 3 quarts cold water and refrigerate.
Mix With: Milk and sugar are both great.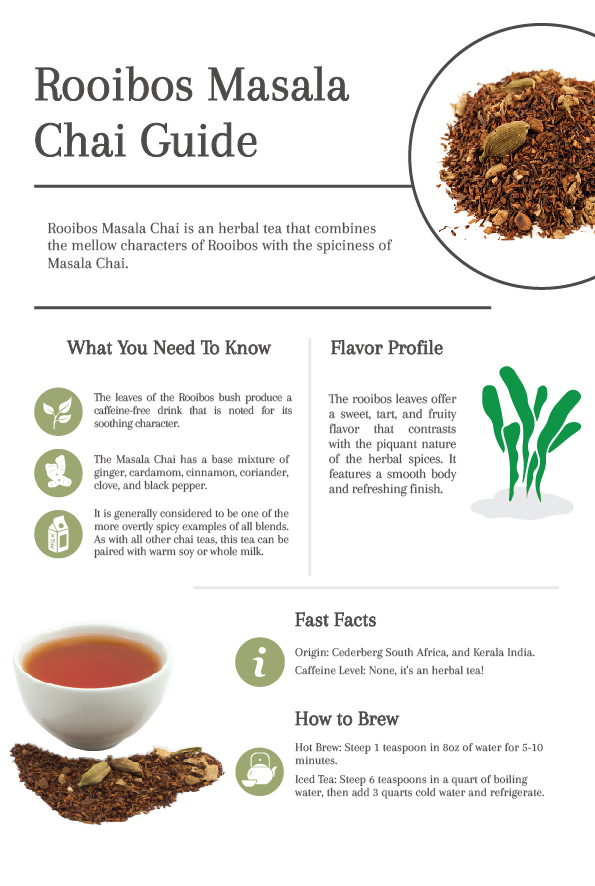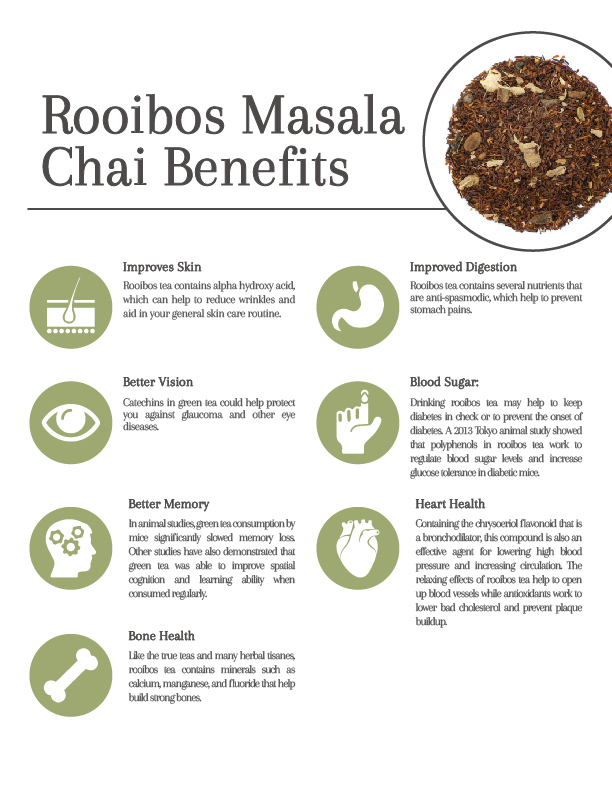 Delicious!
I am enjoying my teas! Thank you!
Tasty chai that's not overpowering
This is a well balanced red chai. It has that distinct, tasty chai flavor but it's not overpowering like some blends.
Makes for a great cup when I am craving something different and more flavorful without going for sugary drinks.