Pu-erh Special 3-Year Aged
One of our mid-range pu-erhs, this tea has been aged for three years in a packed brick and is then broken up into leaves or chunks for you to steep. It has a rich, earthy flavor and can easily be re-steeped five or more times per serving.
All About Pu-erh Special 3-Year Aged
Pu-erh starts life as a special unoxidized green tea harvested in the yunnan province of China. The farmers will pick older, broader tea leaves, more suited to the fermentation process.
Then the leaves are packed into a cake and aged somewhere dark and dry for anywhere up to 20 years (or longer!)
This particular tea is relatively young at 3 years old, but it's old enough to start to develop that rich, unique flavor that makes pu-erh so unmistakeable.
It can be an acquired taste for new tea drinkers, but if you get used to the rich flavor, you can reap the benefits of a high caffeine, fermented, delicious tea that's rich in antioxidants and other beneficial minerals.
Health Benefits
Pu-erh has a ton of great health benefits, including:
Increased Energy: Pu-erh has more caffeine than most teas, with 60-70mg per cup (compared to 100mg in a cup of coffee). It's perfect for a morning or afternoon pick-me-up, especially if coffee makes you jittery.
Heart Health: A Chinese study showed that aniamls that drank pu-erh tea had lower cholesterol and triglyceride levels, which are often associated with obesity. At the same time, pu-erh tea increased the good HDL cholesterol which can reduce risk of heart disease.
Cleansing Toxins: Pu-erh tea contains simple sugars and microorganisms that help the spleen cleanse blood and eliminate free radicals.
Prevent Cancer: Studies have shown that consistent consumption of pu-erh tea can combat cancer and prevent the growth of new cancer cells.
Bone Health: Animal studies suggest that the polyphenols in pu-erh tea can help to develop higher bone mass and greater bone strength.
Weight Loss: Pu-erh tea encourages your body to produce the hormones epinephrine and norepinephrine, which work to reduce stores of fatty acids.
Reduce Stress: Pu-erh tea contains the phyto-chemicals GABA and theanine, which have been attributed to lower stress levels.
Prevent Illness: Since pu-erh tea is high in antioxidants and vitamin C, drinking a cup of this brew every day can help prevent illnesses such as the common cold and flu.
More Info
Origin: China, from the Yunnan province.
Caffeine Level: High, close to a cup of coffee.
Brewing Hot: Use 1 tsp per 8oz of boiling water, and let steep for 3-7 minutes.
Brewing Cold: Steep 6 teaspoons in a quart of boiling water, then add 3 quarts cold water and refrigerate.
Mix With: Milk and sugar are both good options to cut the bitterness.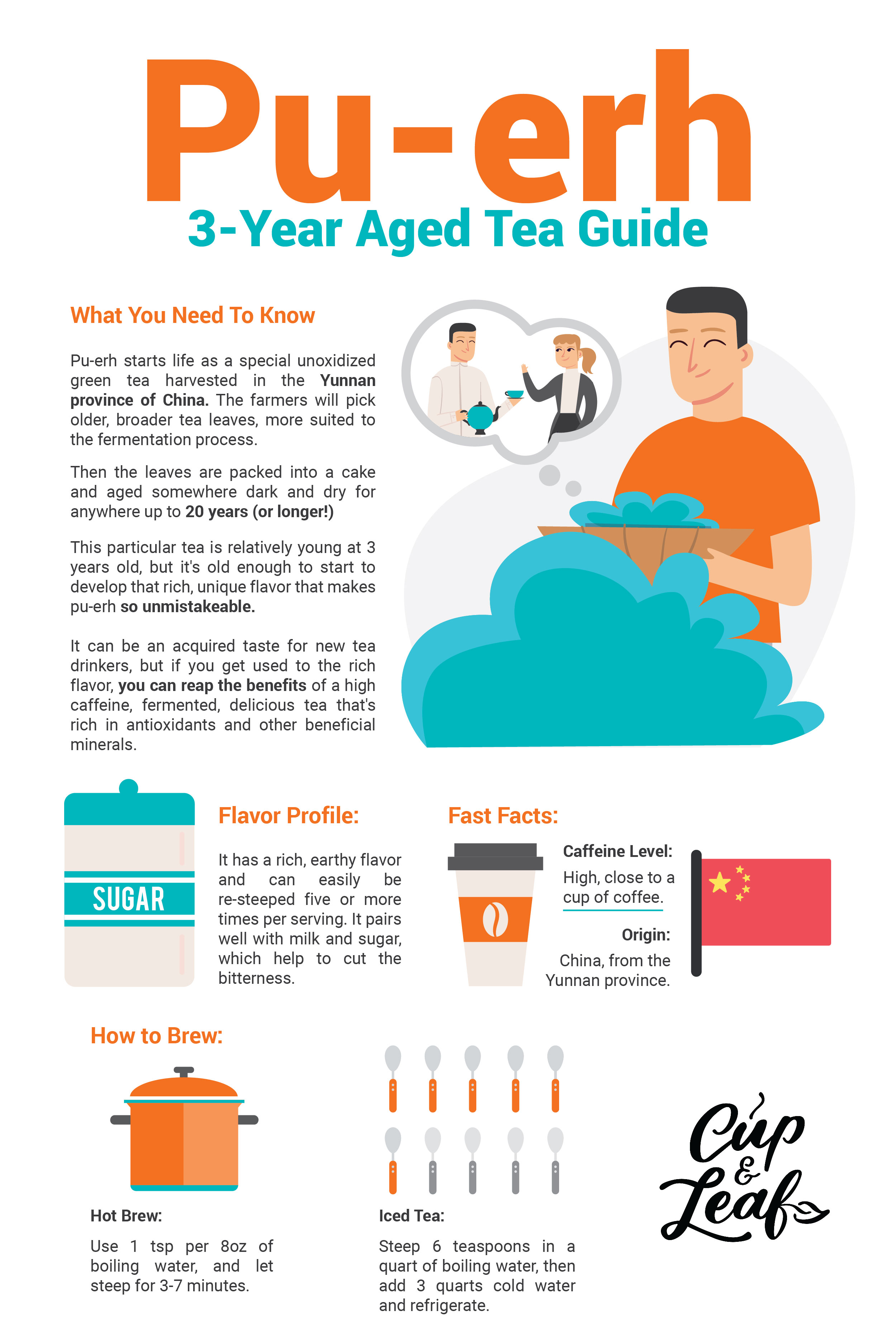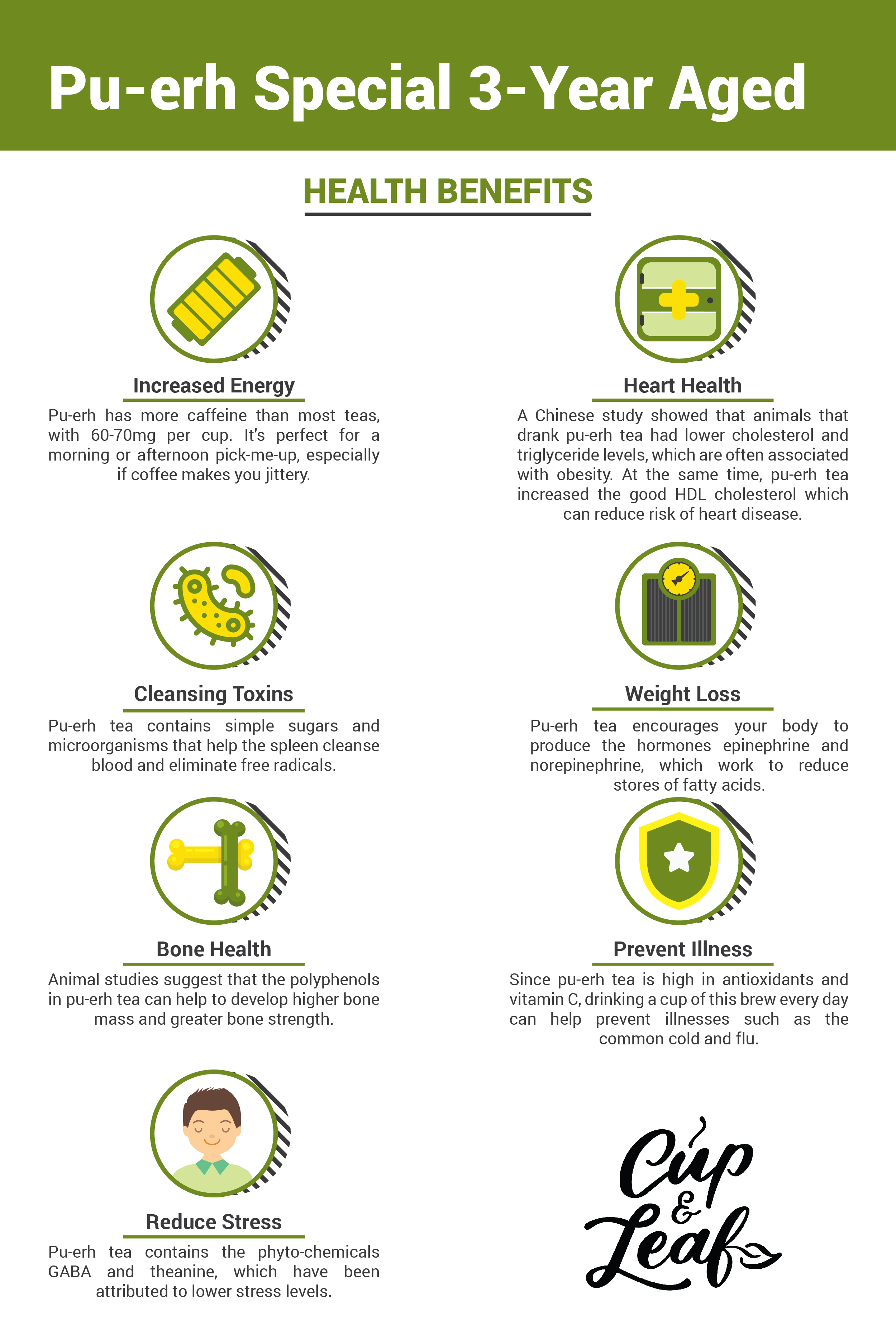 Pu'er Tea Revie
Aged well for an age Pe-er, but not so much that it tastes like dirt. Would buy again.
Excellent Product
Perfect timing for your tea to come in as stated. I will purchase again!!!
Amazing and smooth
I loved it. It did have more caffeine than I thought. Now I only drink it in the morning.
Pu-erh Tea
We got the 3-year aged and are happy with our purchase. I like it light while husband likes it a bit stronger so he steeps his for a longer time. Great with honey. We purchased it for the health benefits. If you haven't read them, you should! We'll be buying again.
Pu-erh Special 3 year aged
I have enjoyed this tea so far. There is a unique smell to it that I can't quite explain, but I like the tea.