Organic Sencha Fuji Green Tea
Traditional Japanese Sencha is one of the most popular and most loved green teas in the world. We've selected a premium grade, organic version of it that you're sure to enjoy every sip of.
All About Organic Sencha Fuji Green Tea
From 800 - 1200 AD, Japan relied heavily on China to supply them with tea. 
One day, a Japanese Zen Buddhist named Eisai Myoan returned from the Jiangxi province of China with tea seeds and planted them at his temple. The tea turned out to be more delicious than any green tea available in Japan at the time, and created the foundation for Japan's booming tea economy over the next centuries. 
This Sencha Green Tea is grown to the rigid specifications of Japan's finest green teas, and gives you a taste of the delicious flavors Eisai discovered 800 years ago. 
Health Benefits
Green tea is packed full of different health benefits you'll love, including:
Heart Health: The American Medical Association found that people who regularly consumed at least one cup of green tea a day died at far lower rates from cardiovascular disease than those who consumed less than one cup a day.
Weight Loss: Researchers have found that green tea helps contribute to fat burning by increasing the body's metabolism.
Bone Health: Animal studies have strongly suggested that green tea can encourage the formation of new bones, and in those animal studies, the bones showed greater mass, volume and thickness.
Better Vision: Catechins in green tea could help protect you against glaucoma and other eye diseases.
Cancer Prevention: Research has shown that drinking at least three cups of green tea is effective in delaying processes that lead to mutations and changes in cells which cause them to be cancerous.
Memory Health: In animal studies, green tea consumption by mice significantly slowed memory loss. Other studies have also demonstrated that green tea was able to improve spatial cognition and learning ability when consumed regularly.
Diabetes Prevention: In a study performed in Japan, people who consumed six or more cups of green tea saw a stunning 33 percent risk reduction of developing Type 2 diabetes.
More Info
Origin: China, from the Jiangxi Province.
Caffeine Level: Low, less than a third of what you find in coffee.
Brewing Hot: Use 1 tsp per 8oz of boiling water, and let steep for 3-7 minutes.
Brewing Cold: Steep 6 teaspoons in a quart of boiling water, then add 3 quarts cold water and refrigerate.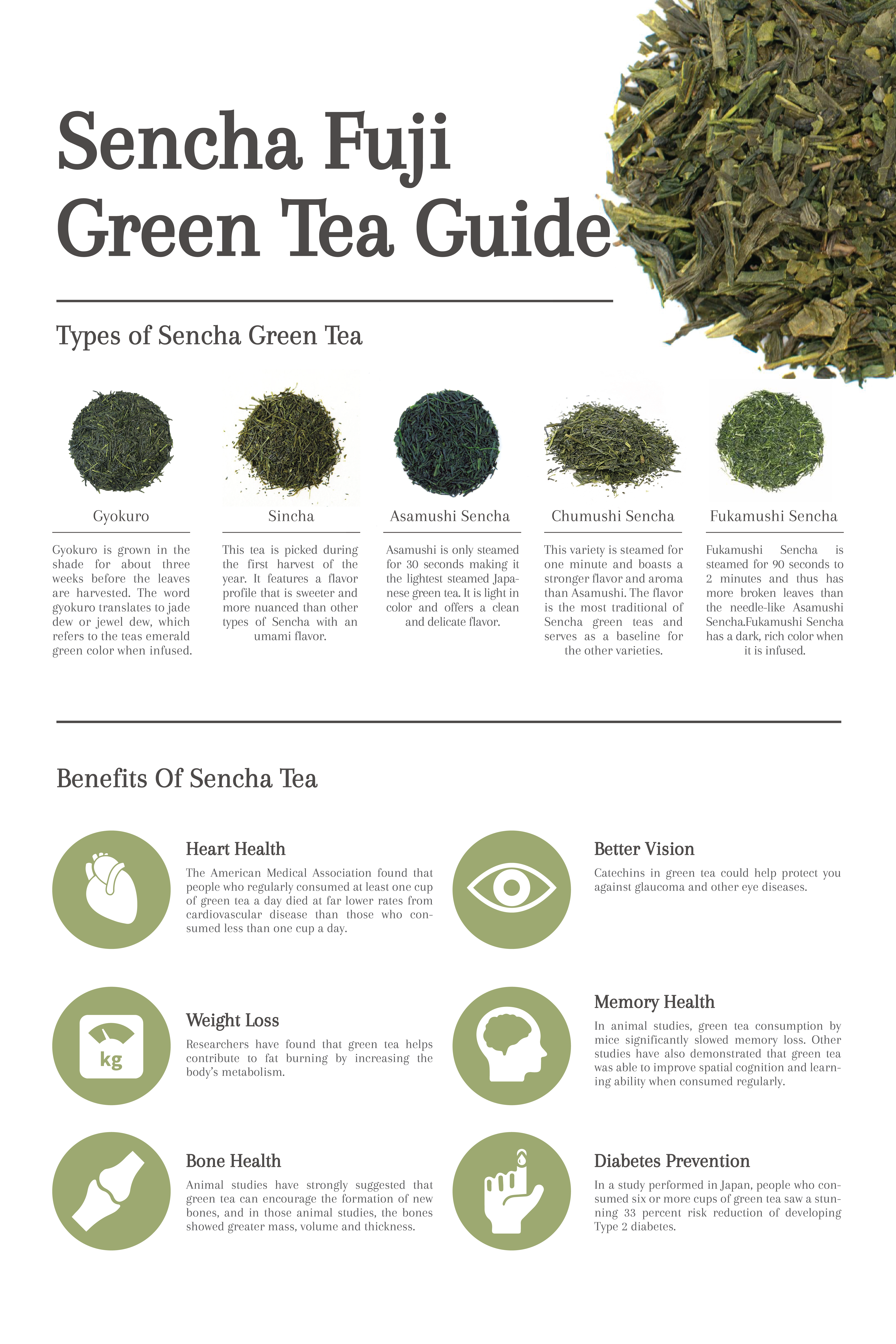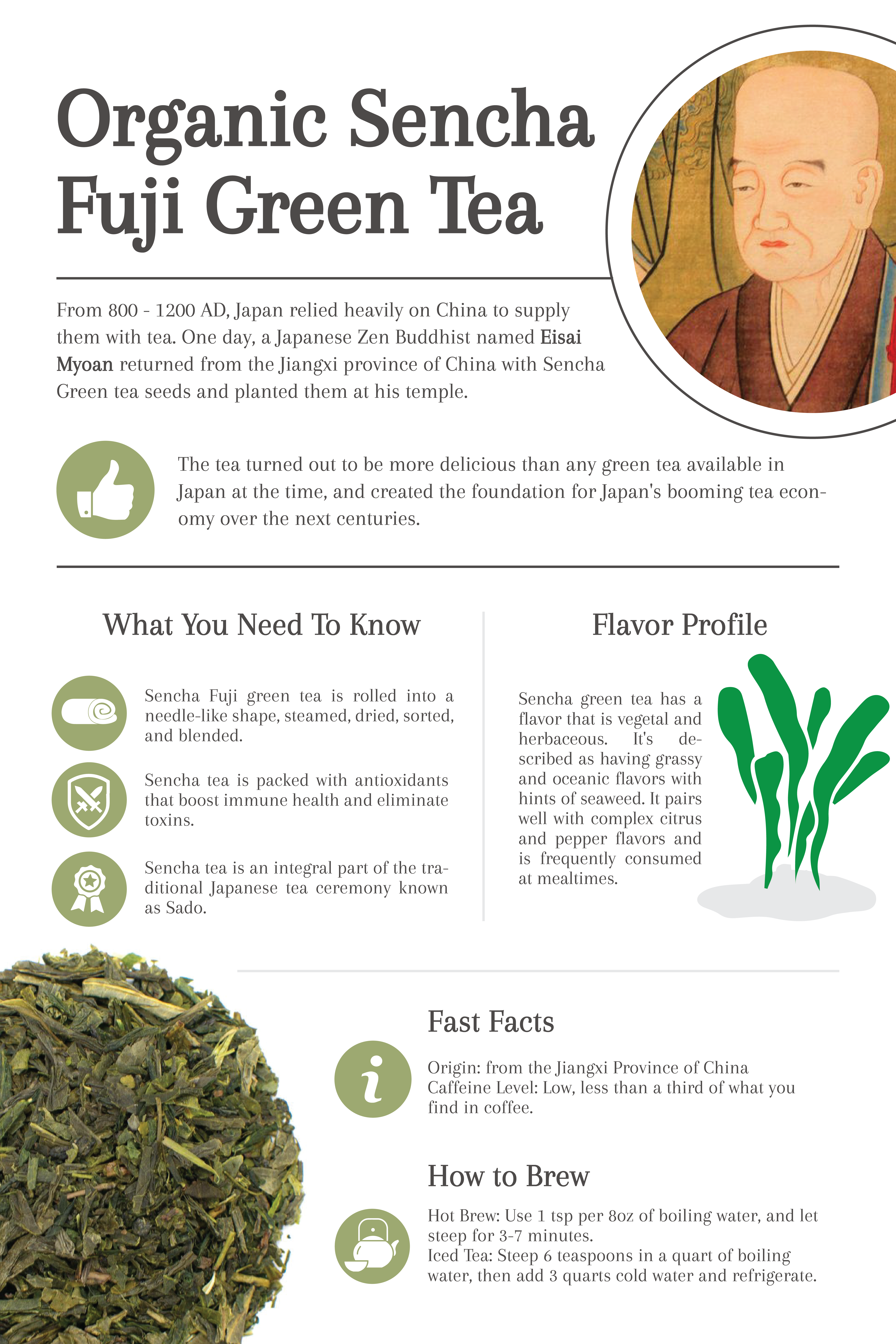 Good Stuff
I have really enjoyed this tea. Quick delivery for a newbie tea drinker.
Great Tea
This is my first introduction to Sencha Green Tea and it's quite lovely, thx
Nicely
Good stuff. Puts you in a good mood. Plus its healthy. Only the good stuff here.
Great taste!
I decided to switch to loose leaf green tea after reading larger leaves means better benefits and I am so happy I went with this type and company.
I have only tried 1 of the teas. I added fresh raspberries to the tea which was very good.