Black Pearl Gunpowder Tea
A silky smooth black tea rolled into small "gunpowder" balls that unfold while it steeps. Perfect if you're looking to upgrade from more common black teas like English Breakfast and Earl Grey.
All About Black Pearl Gunpowder Tea
Legend has it that black gunpowder tea was first created to trick pirates into thinking they'd been sold real gunpowder, to buy a local village time while it was under attack. 
The tea is still made to match that original style. It's picked, dried, and then hand-rolled to create the distinctive gunpowder shape, similar to green gunpowder tea. The brewed tea is bright with a golden hue, with notes of earth, burgundy, and a little honey on the finish. 
Try this black gunpowder tea and discover for yourself why it has been passed on and enjoyed for generations.
Health Benefits
Black teas like this pearl gunpowder one are loaded with health benefits, including:
Stress and Anxiety Reduction: Compounds in black tea may help us recover from the daily stresses in life.
Weight Loss: Mice fed a black tea supplement while on a high sugar diet had less weight gain and a greater metabolism than mice who didn't receive the black tea supplement.
Cancer Prevention: Antioxidants, like the polyphenols, catechins, and theaflavins in black tea, may reduce the development and spread of cancer.
Diarrhea Reduction: Diarrhea symptoms can be reduced by the high amounts of tannins in black tea.
Diabetes Prevention: Lab rat experiments show that black tea is beneficial in both lowering blood sugar levels and reducing diabetic cataracts.
Headache Management: If you're suffering from a tension headache, the antioxidants in black tea can help relieve it faster than standard painkillers.
Oral Health: According to the American Society for Microbiology: "compounds in black tea may attack the harmful bacteria in your mouth that cause gum disease and cavities."

More Info
Origin: The Yunnan Province of China.
Caffeine Level: High, about half a cup of coffee.
Brewing Hot: Use 1 tsp per 8oz of boiling water, and let steep for 3-7 minutes.
Brewing Cold: Steep 6 teaspoons in a quart of boiling water, then add 3 quarts cold water and refrigerate.
Mix With: milk, sugar, lemon, or mint.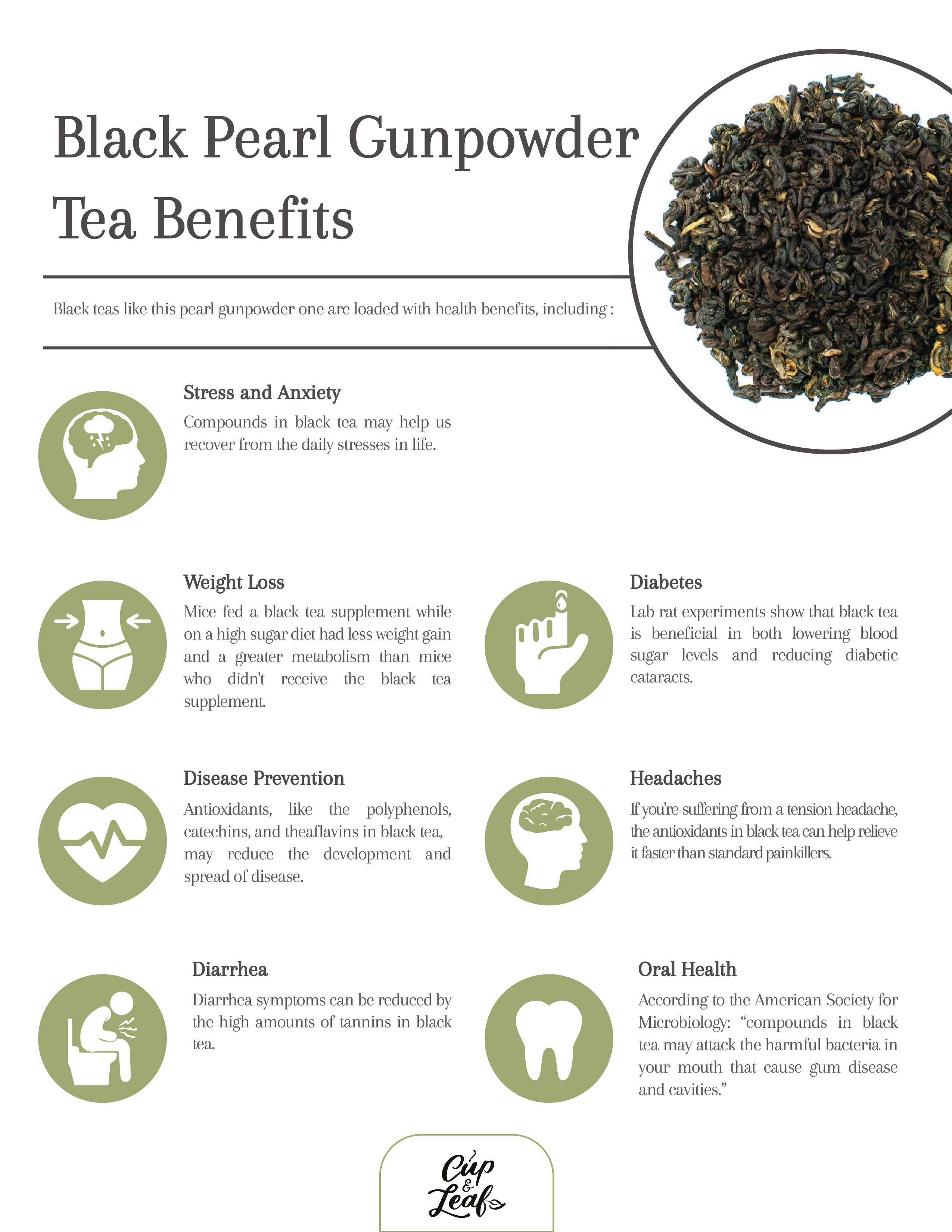 My Wife's New Favorite
This was our first time trying this tea. It instantly became my wife's favorite. We like the way the full size leaves of the gunpowder style expand and don't find their way through the filter in the tea pot.