Emperor Pu-erh 4 Year Aged Tea
Our finest pu-erh tea. It's been aged four years from the finest tea leaves available, resulting in a deliciously smooth earthy tea you can steep over and over again.
All About Emperor Pu-erh 4 Year Aged Tea
In the 600-900s AD, the finest tea that survived the treacherous journey across the Chinese countryside was reserved for the emperors who ruled Tibet. This tea was packed into bricks and aged throughout the journey, giving it the unique earthy flavor we now associate with Pu-erh tea. 
This elegant pu-erh is harvested in Yunnan, China, in fields that have grown tea for millennia, then fermented and aged for four years before making its way into your cup. 
The Emperor Pu-erh is a particularly fine, flavorful pu-erh selection, with notes of earth, malt, and a fermented sweetness. It has a medium level of antioxidants, and a high amount of caffeine.
Health Benefits
Pu-erh tea has many health benefits, including:
Greater Energy: Pu-erh has more caffeine than most teas, a bit more than half a cup of coffee. It's great for replacing your morning coffee with a smoother, healthier drink.
Weight Loss: Pu-erh tea helps your body produce the hormones epinephrine and norepinephrine, which reduce stores of fatty acids.
Reduce Stress: Pu-erh tea has the phyto-chemicals GABA and theanine, which have been shown to help lower stress levels.

Heart Health: Animals that drank pu-erh tea had lower cholesterol and triglyceride levels, which are often associated with obesity. Pu-erh tea also increased their good HDL cholesterol which can reduce risk of heart disease.
Cleansing Toxins: Pu-erh tea contains simple sugars and microorganisms that help the spleen cleanse blood and eliminate free radicals.
Prevent Cancer: Studies have shown that pu-erh tea can combat cancer and prevent the growth of new cancer cells.
Bone Health: Animal studies suggest that the polyphenols in pu-erh can help to develop higher bone mass and greater bone strength.
Prevent Illness: Since pu-erh is high in antioxidants and vitamin C, drinking a cup of this brew every day could help prevent illnesses such as the common cold and flu.

More Info
Origin: From the Yunnan Province of China.
Caffeine Level: High, more than half a cup of coffee.
Brewing Hot: Use 1 tsp per 8oz of boiling water, and let steep for 3-7 minutes.
Brewing Cold: Steep 6 teaspoons in a quart of boiling water, then add 3 quarts cold water and refrigerate.
Mix With: Milk and sugar are both good options to cut the bitterness.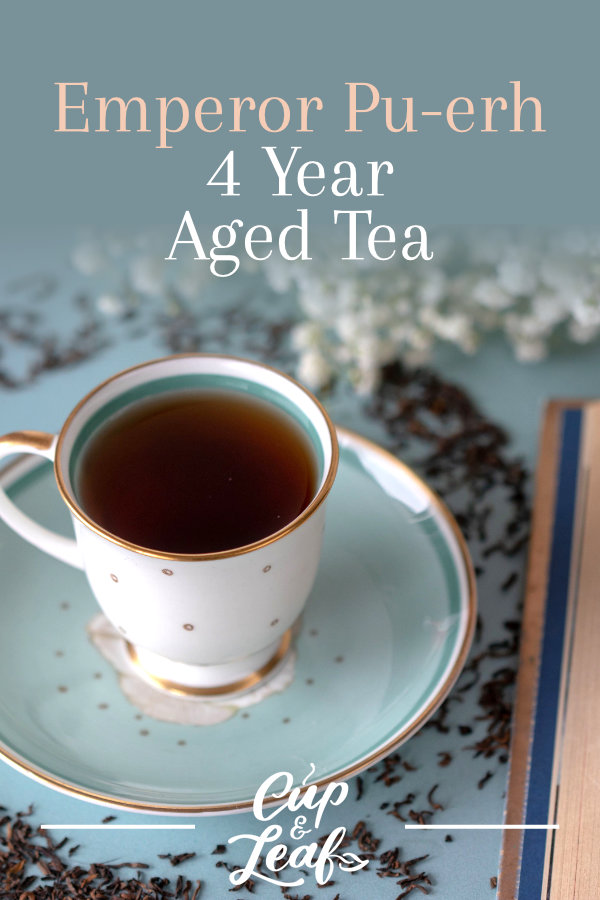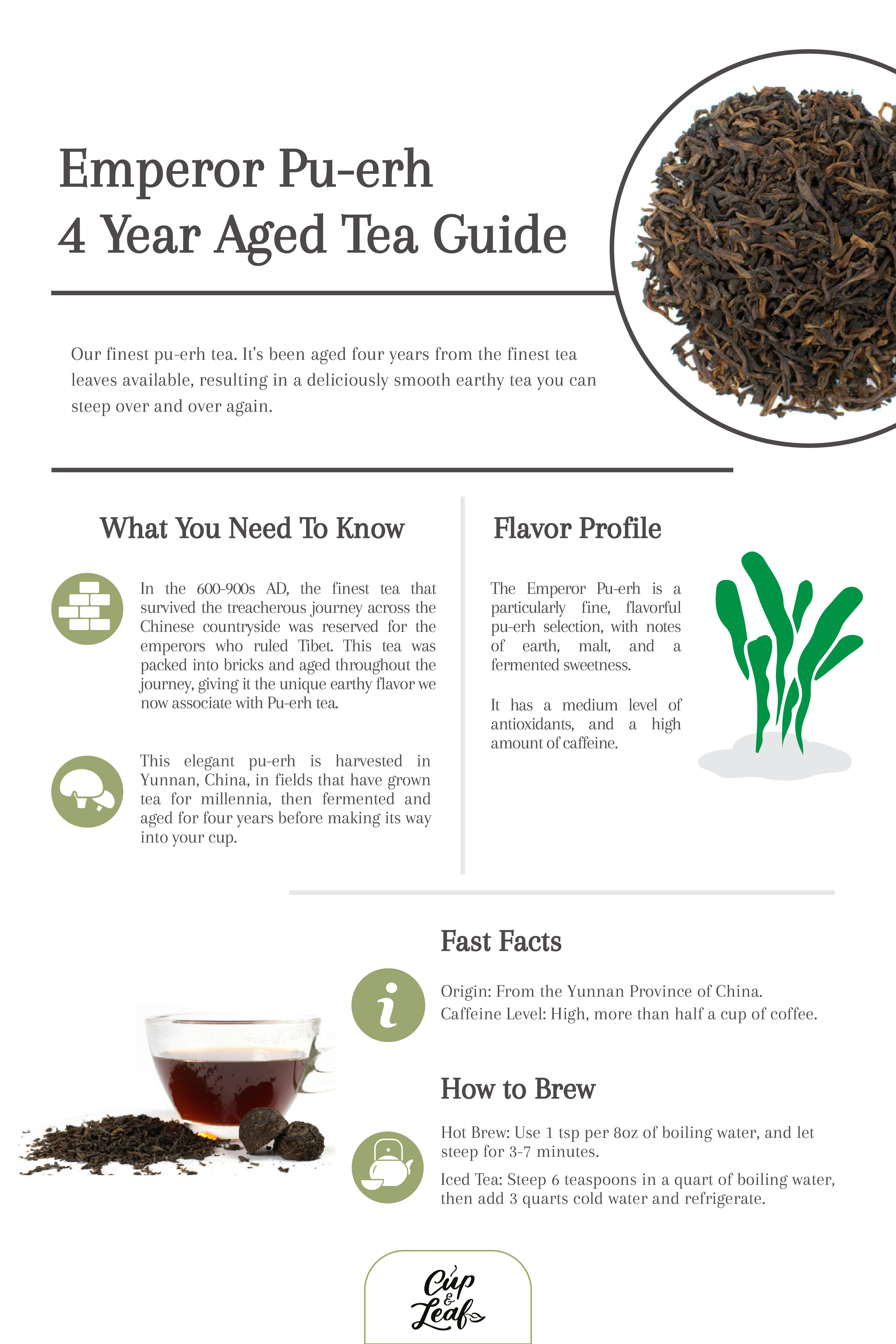 I have not tried my new teas yet. They are packed to go on vacation to Maine with me. Looking forward to enjoying them
Emperor Pu-erh 4 Year Aged Tea
Emperor Pu-Erh 4 years aged
I have just received this tea, it has a wonderful aroma, dark colour and the taste is exquisite. I will be buying this tea again.
Great product and great service, many thanks
Emperor Pu'er 4 Year Aged Tea review
Pu'er is an acquired taste but I managed to acquire it years ago while living in SW China. I like its earthy qualities and the extra caffeine kick it provides compared to most teas.
Smooth
Just started enjoying this tea after reading Lisa See's book The Tea Girl of Hummingbird Lane. I think that is the correct title! It has opened a whole new world of interest to me! This is the second type of Pur' er tea I have tried and the subtleties are quite interesting on the palate. Looking forward to tasting more.