Ginger is loaded with health benefits, and this dried thai ginger tea is one of the best ways to get them. Simply drop a few pieces into your cup, steep it like a tea, or add it to your other favorite tea for a delicious, spicy drink you can enjoy all day.
All About Thai Ginger Tea
Ginger root serves as the base of many recipes, especially Thai. Ginger is known to cure a plethora of ailments, including indigestion, lack of appetite, the common cold, and nausea. 
This tea is from Sing Buri, Thailand, and is best prepared by infusing the ginger in boiling water and then adding in honey and lemon. The two additions will add a tang to the heat of the ginger pieces.
Health Benefits
Combat Nausea: Ginger has been used for centuries as a cure for nausea and vomiting caused by morning sickness and motion sickness.
Immune Boost: Ginger contains the biological compounds gingerol and shogaol that fight to eliminate free radicals and toxins that can cause you to get sick in the first place.
Respiratory Health: Allergic rhinitis is simply an overreaction of the immune system to common stimuli. Ginger works to prevent the immune system response that cause wheezing, itchy and watery eyes and sneezing.
Better Circulation: Ginger is a vasodilator that opens blood vessels and allows blood to flow through more easily.
Weight Loss: Ginger can aid weight loss by making it easier for the digestive system to break down fats and by blocking fat absorption in the intestines.
Reduce Inflammation: Ginger tea has anti-inflammatory properties that may help to ease muscle pain and joint pain associated with arthritis, menstrual cramps and osteoarthritis.
Reduce Blood Sugar: Subjects who were given 1 gram of ginger powder three times daily showed decreases in blood sugar levels after eight weeks. Researchers believe ginger helps to regulate blood sugar by inhibiting the enzyme that breaks down glycogen, which can help prevent blood sugar spikes.
Cholesterol Reduction: Drinking ginger tea can help to lower dangerous triglycerides and LDL cholesterol. Ginger tea can increase circulation and reduce inflammation in arteries while reducing cholesterol, thus alleviating the risk of build-up in arteries that can cause blood clots and heart attacks.
More Info
Origin: Sing Buri, Thailand
Caffeine Level: None, it's just ginger!
Brewing Hot: Use 1 tsp per 8oz of boiling water, and let steep for 5-10 minutes.
Brewing Cold: Steep 6 teaspoons in a quart of boiling water, then add 3 quarts cold water and refrigerate.
Mix With: Lemon, sugar, honey, mint, and anything else you like to have with ginger!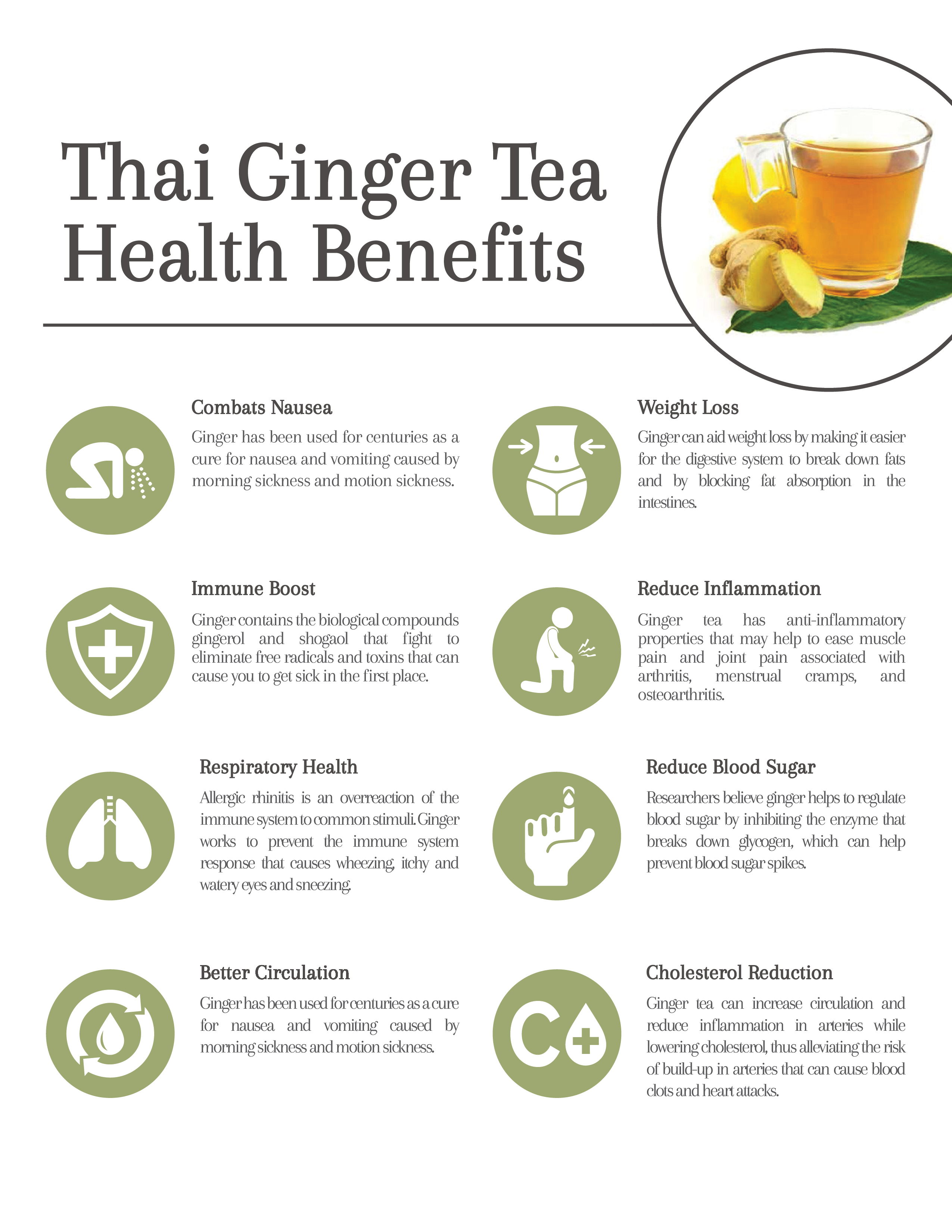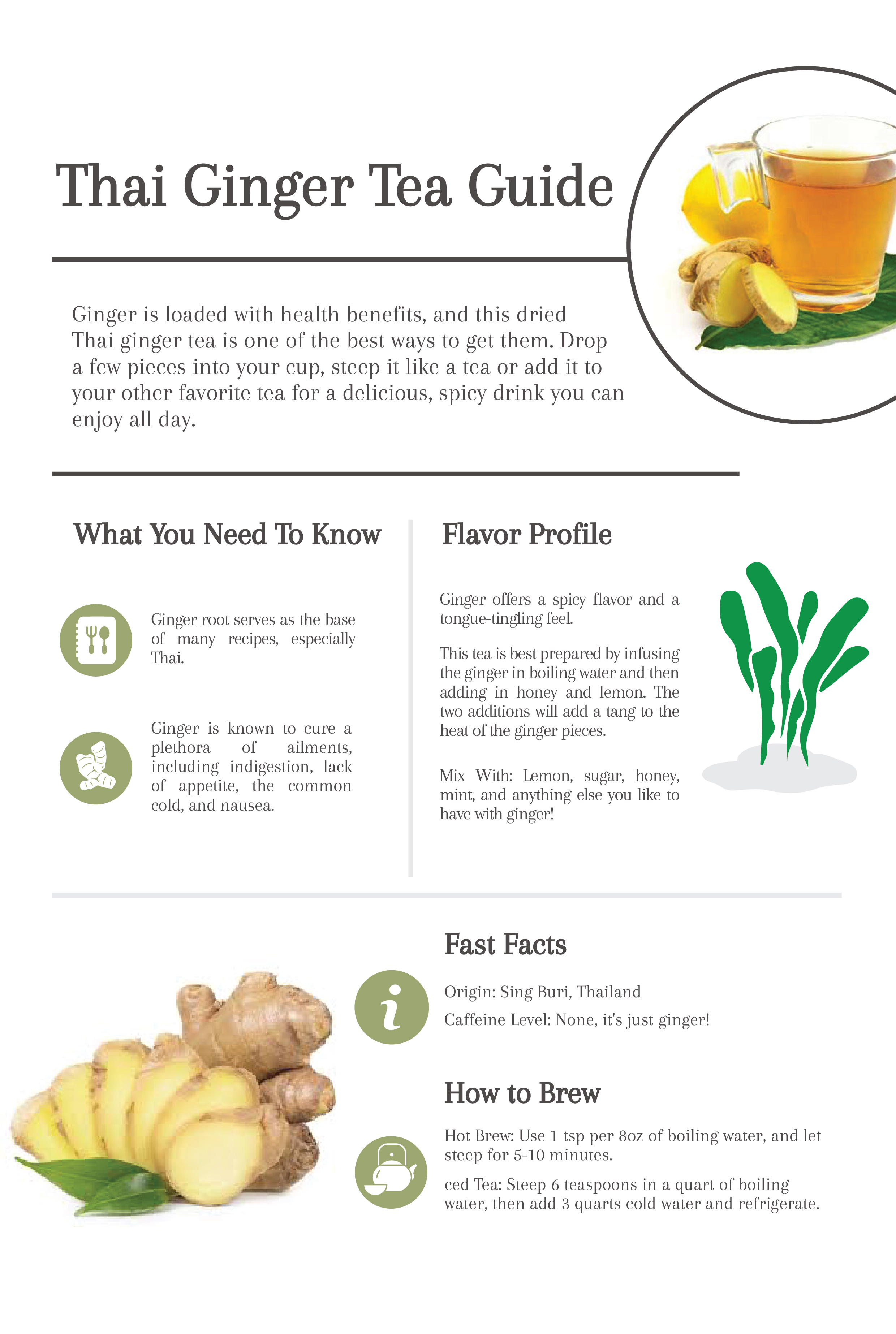 Ginger Tea
I absolutely love ginger tea. I have a cup everyday!Great for my digestive system and blood pressure. The natural flavor is awesome. There is also another tea I like to drink that helps with my weight. If interested check it out.
Ginger Tea
Outstanding tea I will be buying more!
First Order
Product arrived as expected.
Real Ginger Flavor
I've had a lot of teas that taste like "ginger flavored chemicals" but this tastes like, well, ginger. It's great on its own or blended with other teas, and it is a great natural remedy for an upset stomach!
Thai Ginger Tea
The Ginger tea is amazing! A tiny bit goes a long way, so I will be using my packet for a long time. I just added some lemon and honey and had great spicy/ sweet tea. I have not seen this sold other places and am so glad I discovered it through Cup and Leaf!